It's hard to believe we were in Japan for 9 full days!  Time flew in a way I never would have expected, and now looking back on it from Thailand I'm so excited we were able squeeze in so many memory-building activities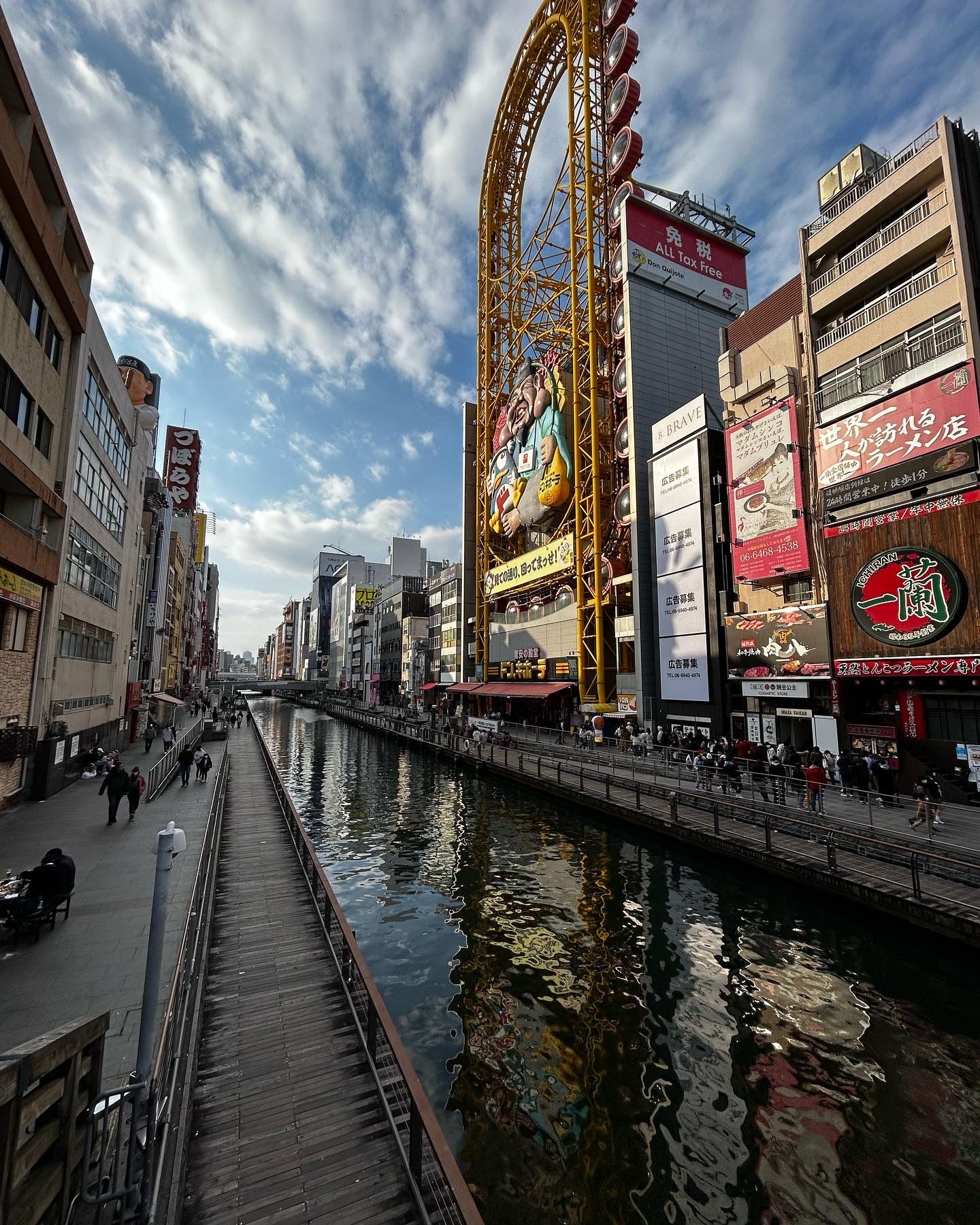 Despite Chase's concerted efforts, we arrived in Osaka to our capsule hotel and started off by soaking up Dotonbori and all its delicious glory. When I say it was a capsule hotel, I mean it was designed to just barely fit two people.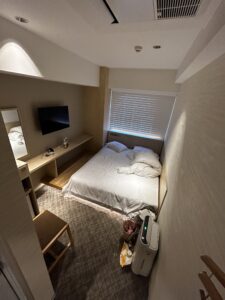 The double bed took up the entire room, we had a modular bathroom built to slide into the space like a Tetris block, and it had a faux window that gave the illusion of outdoor light.
That said, we were there for Dotonbori and not for the hotel.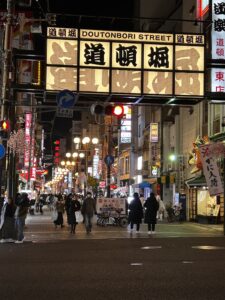 Dotonbori is the foodie capital of Osaka and it didn't let us down.  It was jam packed with people, most of whom appeared to be locals.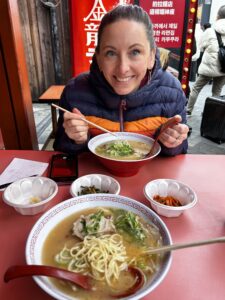 You know you're in the right spot for food when even the locals flock to a location to have the best Osaka has to offer.  We had Ramen, Sushi boat, candied strawberries and more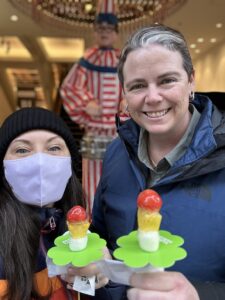 After Osaka we headed to Koyasan.  This is a mountain monastery town with 52 individual monasteries.
While I want to be the person who goes to a monastery town purely for the monasteries, if I'm being honest I went there for the 1000 year old, eerie, beautiful and magical cemetery.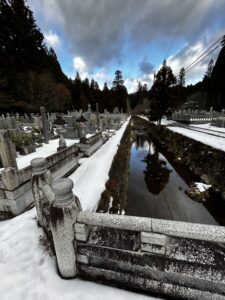 It's acres and acres of memorials are covered in moss and have Buddha statues, some of which are adorned with hand woven hats and bibs.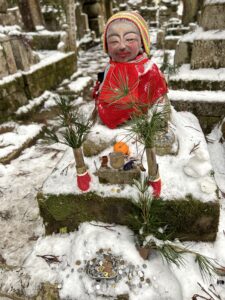 After wandering through the touching memorials, you finally arrive at a large mausoleum where the founding father of Koyasan, the enlightened Kobo Daishi, sits in a state of eternal enlightenment.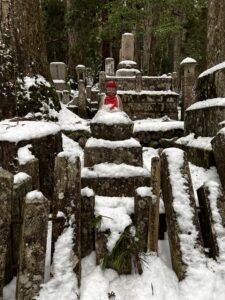 In addition to wandering the cemeteries and relaxing into the peaceful mountain town, we also wanted to participate in the ways of the monasteries as much as we, as outsiders, would be able to.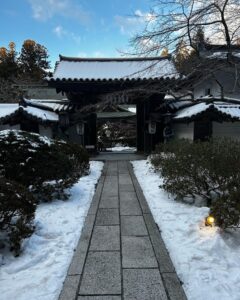 We stayed at the monastery Fukuchiin Onsen, where we slept on traditional Japanese tatami mats, soaked up the healing waters of the Onsen and savored the vegan delicacies that were hand made as a part of their spiritual practice by the local monks.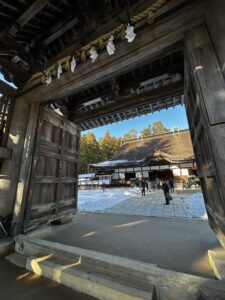 We were lucky enough to be in Koyasan while the town was celebrating the New Year, and got to the main temple just as the monks were exiting from their final New Year's blessing.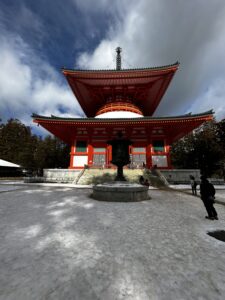 We waited for everyone to depart and then entered the temple to be faced with three monolithic Buddha statutes and towering columns painted in rich vibrant colors.  They ask that you not take photographs, which we respected, so there are no pictures to share with you here.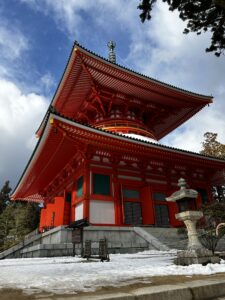 While we looked in awe at the powerful deities, a Japanese man approached and handed me a little empty envelope.  He gestured for me too take it across the plaza to the shop.  At first I thought maybe we were supposed to pay to enter and had not done so, but when I took the envelope to the shop the monks working there filled it with a stick.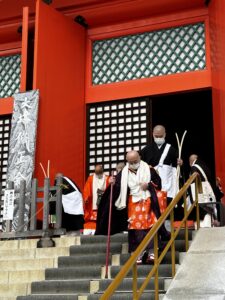 They explained that it is a magical totem only made available to those who attended the New Year's prayer and it will protect us from daemons.  Historically these totems were used to beat the daemons from a person by literally hitting them, and while mostly symbolic in modern times, I'm still happy to have a daemon baton with me on this trip.
After three incredible days we headed back to Osaka to finish out our time in Japan.  This was our last chance to squeeze everything in.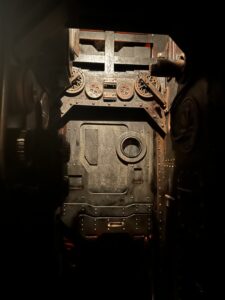 If I'm being honest, I'm not really great at planning activities when traveling.   My strength is getting somewhere and wandering around until I find something interesting to do, but thankfully this time around I'm with Kress.  She did all the research and because of that focused preparation we were able to experience some quintessential Japanese activities.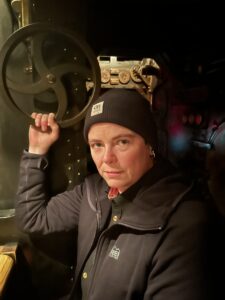 After arriving back to our cushy western hotel in Osaka, we immediately left to do a little bar hopping. It started out with some Japanese whiskey at a Submarine themed bar.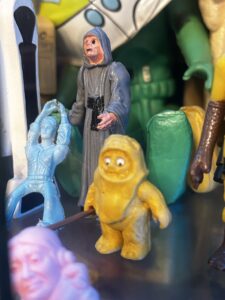 From there we headed out to have a little Sake at the Star Wars bootleg themed bar/restaurant, and then we concluded with a drag show at the local gay bar.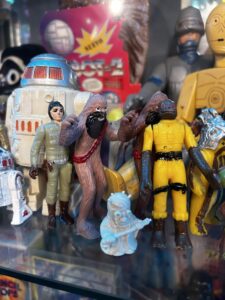 The following day we got a bit of a slow start as our body processed the mixture of liquor from the night before.  Not to mention that after 3 nights sleeping on a futon we wanted to lounge a bit in our fluffy western bed.  When we did finally get moving we did a little shopping for some essentials.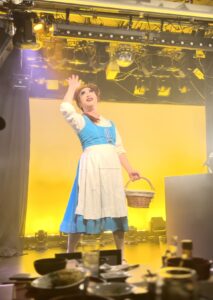 We replaced that lost glove from Whitehorse, purchased a charger for my phone (also left in Whitehorse), and obtained an adapter so Kress and I could both watch and listen to shows on my iPad when traveling to new destinations.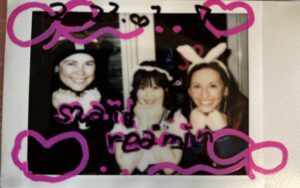 After our to-dos were complete, we headed out to the Maid Café.  This café is literally a place to make people feel good.  You show up, they hand you fluffy animal ears to wear on your head and then bring you drinks and sweets.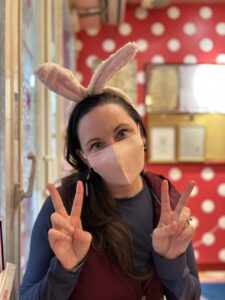 They do a few personalized performances, lip syncing to popular Japanese pop songs and generally spread as much cheer and joy as possible.  They don't allow pictures of the performers unless you pay, so here are the Polaroids we purchased, along with their embellishments of hearts and squiggles.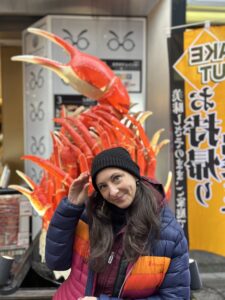 To conclude our time, we headed out for a crab feast.
We returned to the hotel, full of crab and happy feelings, and prepared for our departure the following day.  We haven't had the best of luck when it comes to catching our flights, so to continue with our theme of stressful airport transfers we didn't realize Osaka had two different airports.  Japan is a cash dominated society, so there were few opportunities to pay for things using credit cards.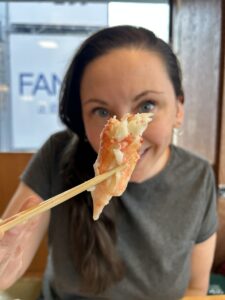 We told the hotel where we needed to go in the Taxi and thankfully, they knew better!  They told the taxi driver to take us to the international airport, however, we had only budgeted for the nearby domestic airport.  We'd also planned our schedule based on the nearby airport, and not the very distant international one.
While our timing got seriously crunched, and we scrambled (quietly) in the back of the taxi to figure out how we would pay him, we were lucky to have the seemingly only cab driver in Japan that took credit cards.  We were dropped at the airport just in time to check-in and scurry to our flight.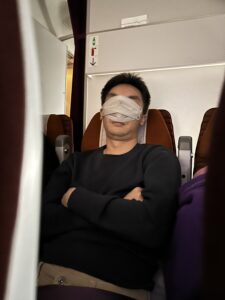 We made it, and have (hopefully) learned our lesson.  Moving forward we are going to work really hard to plan accordingly and not have these unnecessary panic moments.