Hi Friends,
This first week of travel has been a complete whirlwind!  I have so much to fill you in on, so I'm creating three separate posts just to cover our time here in Canada.  Tomorrow we head off to Japan to begin the next leg of the adventure.
SFO to Whitehorse:
Our great adventure kicked off with a flair last Friday when we headed to SFO to catch our flight to Whitehorse, Yukon.  Kress had never seen the northern lights, and what better way to spend Christmas than watching an astral light show dancing in the sky above us.  Somehow it never dawned on us that flying on December 23rd might be a poor choice.  We, along with all other travelers this year, learned our lesson the hard way.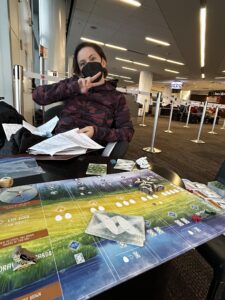 There was a devastating winter storm blowing snow, rain and ice across most of North America.  As a result, our flights were both delayed.
When we finally arrived in Vancouver, we had to run to our second flight through the airport, bobbing and weaving around panicked passengers from flights that were cancelled.  Weary travelers were crying and stressed, running around looking for help that wasn't available.
We finally arrived in Whitehorse at 3am on Christmas Eve, making this a 14 hour travel day.
As you might imagine, everyone from our flight was ready to be home.  Unfortunately, we were all in the are boat in that there were no services available at 3am in the Yukon.   I could tell the situation was dire, so I took one for the team and bundled up to stand in the snowy, -26 degree taxi stand to wait for anything that came along.  My persistence paid off as we hopped in the second taxi that showed up.  Tito, our driver, informed us that our flight aligned with the closing of the bars, so the very few taxis that work in town were busy shuffling their regulars home.  We found out the following day that some of the remaining passengers waited up to two hours at the airport to get a taxi.
You might think this would be the end of a long travel day, but we had one more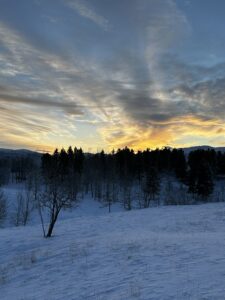 obstacle to overcome.  We had to find our AirBNB.  Describing a home as standing out due to its green roof likely works well in the summer, but when everything is covered in snow it all blends together.
As we drove into the white landscape, attempting to find our home, we came across a well lit house in the general vicinity of where we expected our AirBNB. Thrilled we found our home, we walked up the stairs, and opened the unlocked door.  The first indicator that this might not be our AirBNB was the family of jackets handing beside the door.  The second indicator was the protein power by the sink.
I had already given Tito the go ahead to leave when Kress waved me down and yelled "stop him!"  This was not our house!  Maybe the building next door was the house?  Again, we cautiously approached, opened the door and announced ourselves to a quiet, dark space.  This home was apparently storage for all things that shouldn't be left out in the snow, so I considered it a viable backup plan should the AirBNB be too elusive.  That said, it definitely was not an AirBNb.  We've now entered two strangers homes at 4am and were no closer to finding our AirBNB.
Finally, I looked through the woods and saw  another home with lights on. Why not give this one a try too?  Without telling anyone I marched into the woods to the other house.  I think the exhaustion and rush of possible rest over-road my survival instinct in that moment.  For those of you reading, I do not recommend ever wandering into the woods without telling anyone! I passed an empty, sad dog house, marched through snow up to my knees and finally arrived at the other house.  Low & behold, I saw green siding.  Could this be it!?  Well, third times a charm.  I walked up to the door and opened it.  Finally, a warm, clean, hotel like space emerged before my eyes.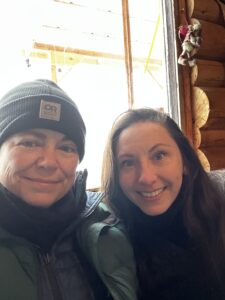 I yelled to Kress through the woods, "I found it!"  In the mean time, she was trying to figure out where I had gone while also trying to explain to Tito that he wasn't allowed to strand us in the snow.  After offering him a nice tip, Tito was happy to stay until we were safe.
In the process of this travel fiasco, we lost one glove and one jacket.  It all felt worth it when we opened the door to a warm and cozy home, but being without warm clothing in the Arctic is dangerous.  Priority number 1, after a little rest, would be to track down that coat and glove.
As it turned out we had left the jacket in Tito's taxi.  Since Tito was our new best friend and survival partner we just had to track him down.  The following day we managed to stock the house with food, track down the missing jacket, buy backup gloves, and still make it to our scheduled dog sledding date.  All the epic activities and experiences we had in Whitehorse will be in the next post.  Stick around as it will be coming up soon!