At the risk of sounding repetitive, I woke to another cold morning. I do, however, have a new level of confidence that things are about to turn around! No more freezing cold nights, wondering if the frost on the windows means it's actually colder inside the trailer. From now on, only warm toasty slumbers are in my future.
You may be wondering what's changed to shift my perception. Well, you see, while I was rooting around in the trailer this morning I came across this odd mechanical device with a little dial on it.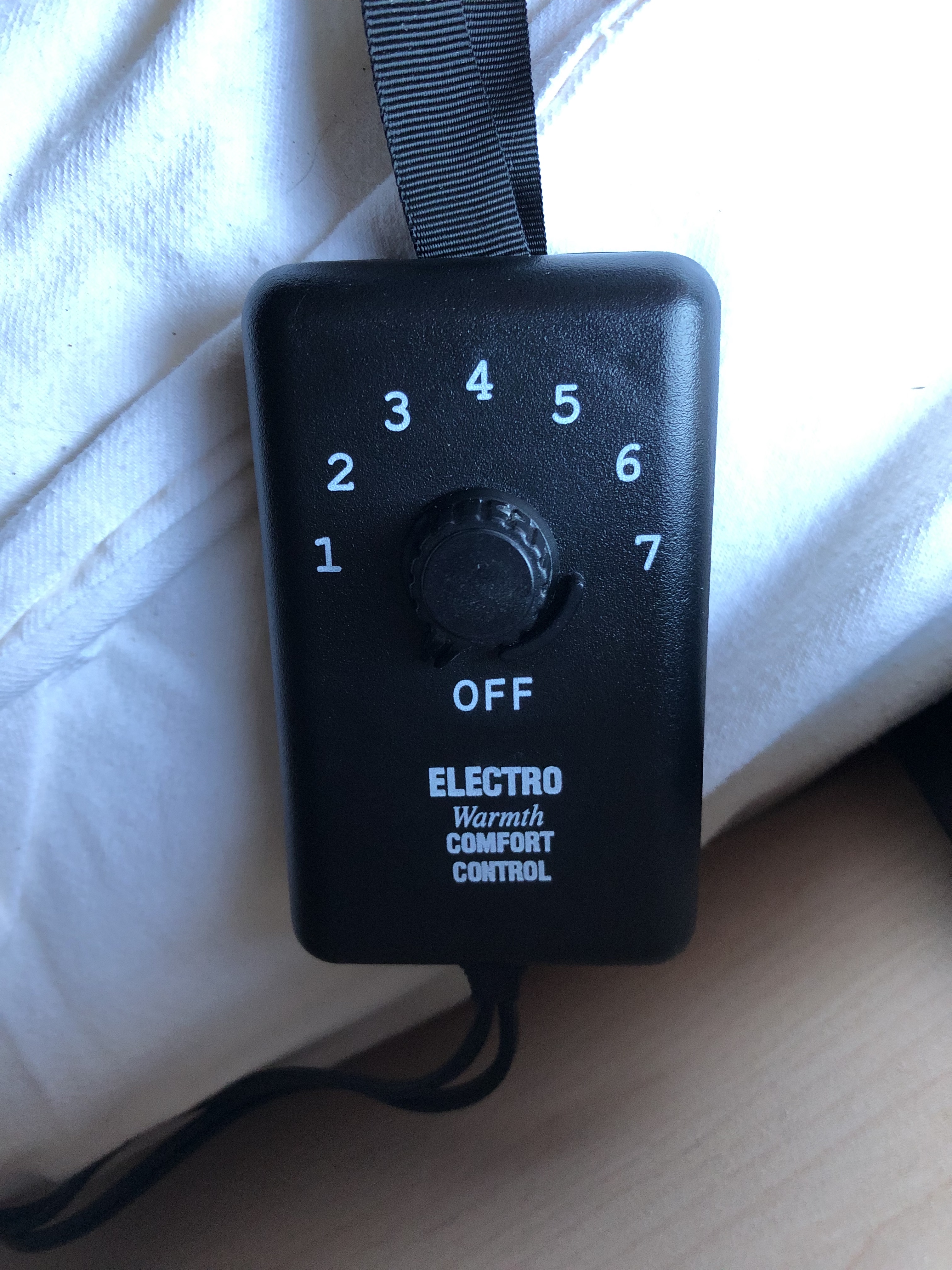 I thought, "what could this be?" So I followed the cable to the source, and low in behold, it connects to my heating pad. This little dial that I had no idea existed as been keeping my heating pad at a very reserved Level 1 this entire trip. Being the forward thinker I am, I can't focus on all those nights where I could have made snow angles inside the camper. No, I must look to the future, and I'm optimistic that the future is warm!
With that transformative discovery starting out the day things are off to a wonderful start and I'm ready to explore. You might be expecting me to say I'm going to explore Canyonlands, but that would be incorrect. One of the beautiful characteristics of this magnificent land is that it directly abuts BLM (Bureau of Land Management) land. The National Park system is chronically unwelcoming to dogs. They can only go on paved trails and they have to be on leash at all times. No hiking into the wilderness being 'adventure puppy' and her loyal companion Beth.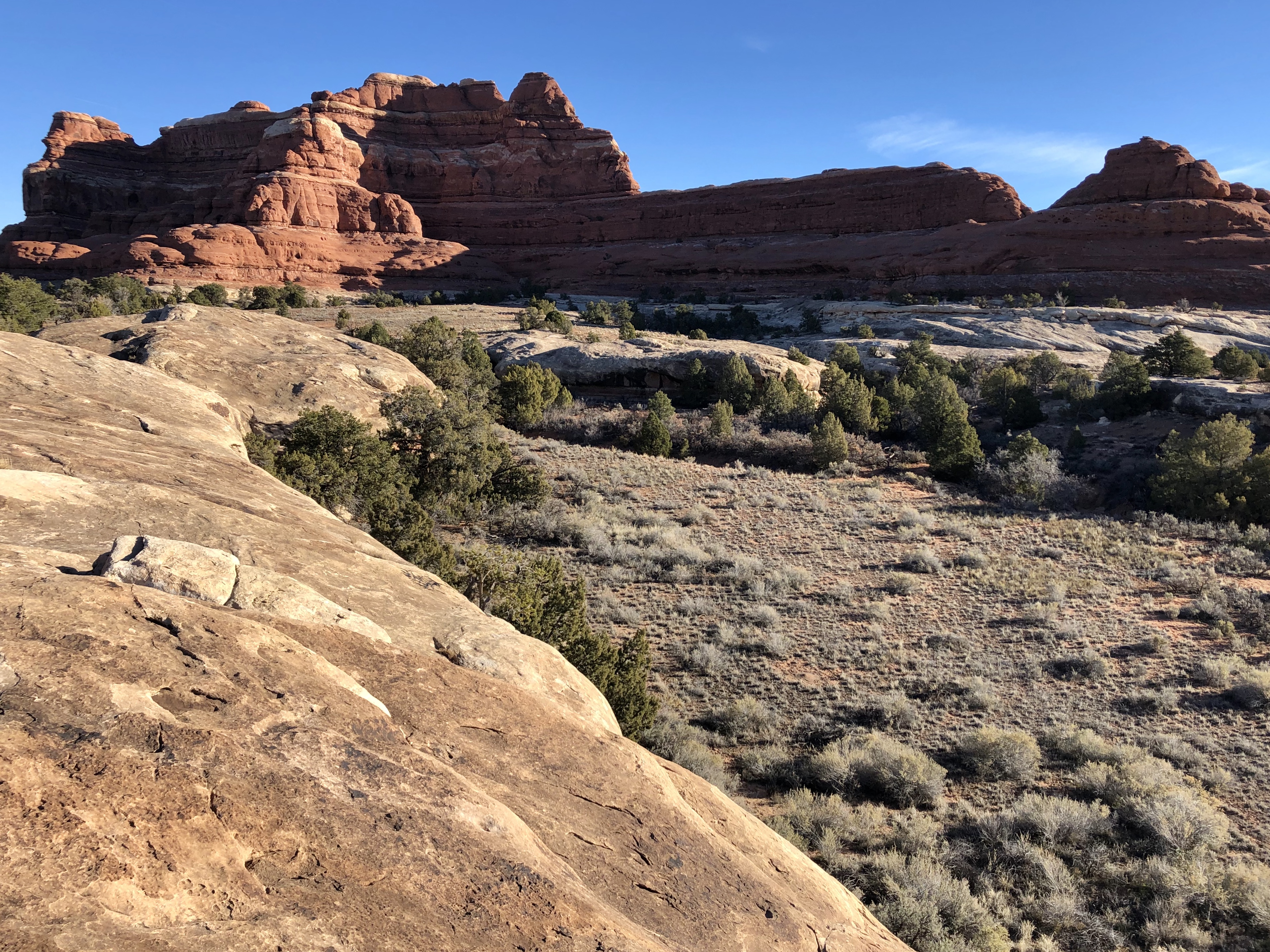 BLM land, on the other hand, is like the Wild West, where Dingo and I are free to live out our fantasies of being Davy Crockett (in tomboy form) and her wolf companion.
We headed out to explore, first trekking around the wide valley that's framed in all directions by steep canyon cliffs.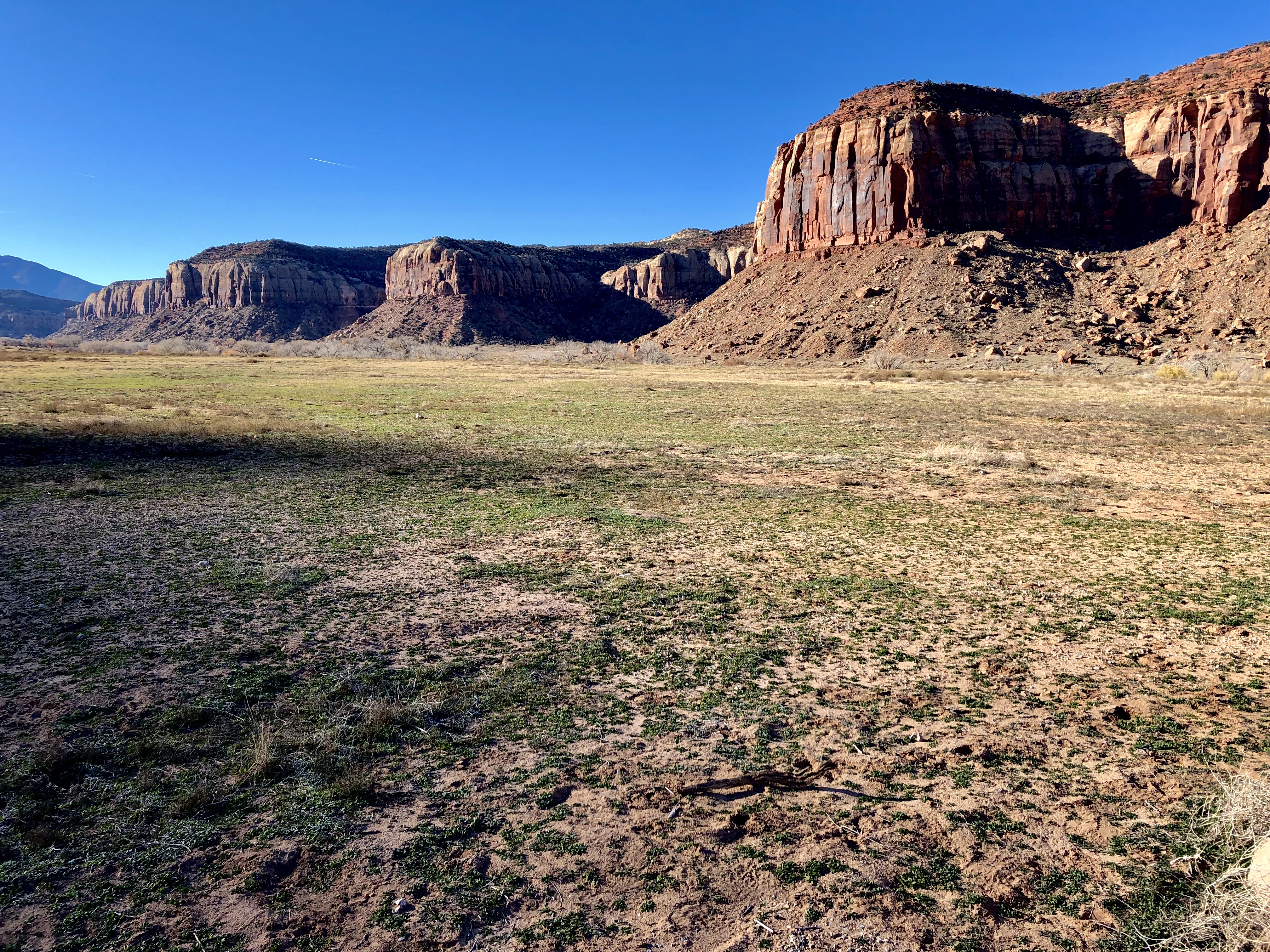 After bumping up against private property, we returned to the road and took the next turn out where throngs of people were preparing to climb these cliffs.  There must have been 20 separate groups of climbers, all carrying yards of rope draped across their bodies and large packs indicating these weren't day trips. Beside the parking lot was a message board for friends to leave notes for their compatriots.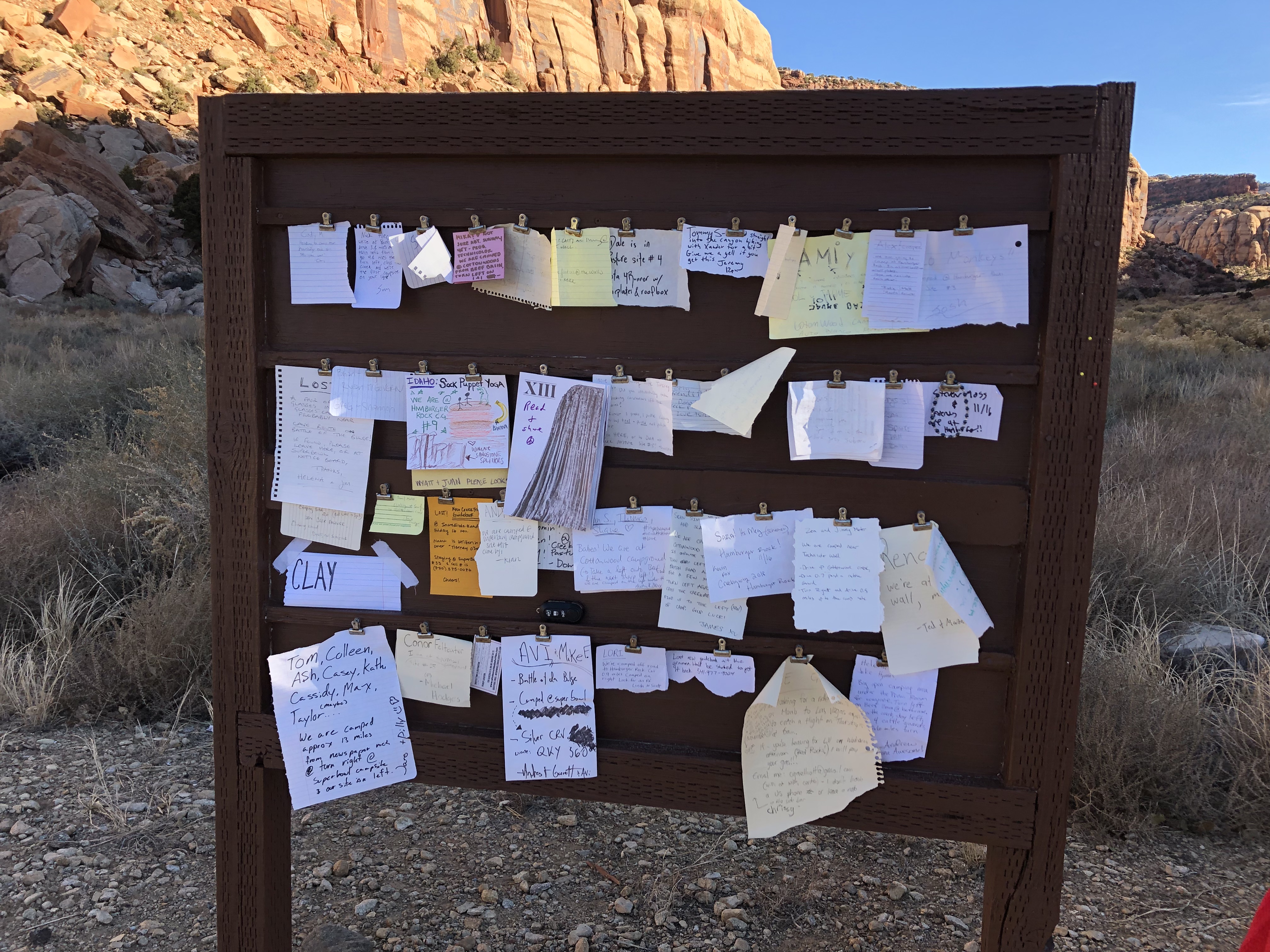 Some of the messages seemed to blur the line between informational, artistic, and comedic, but they all had something to say.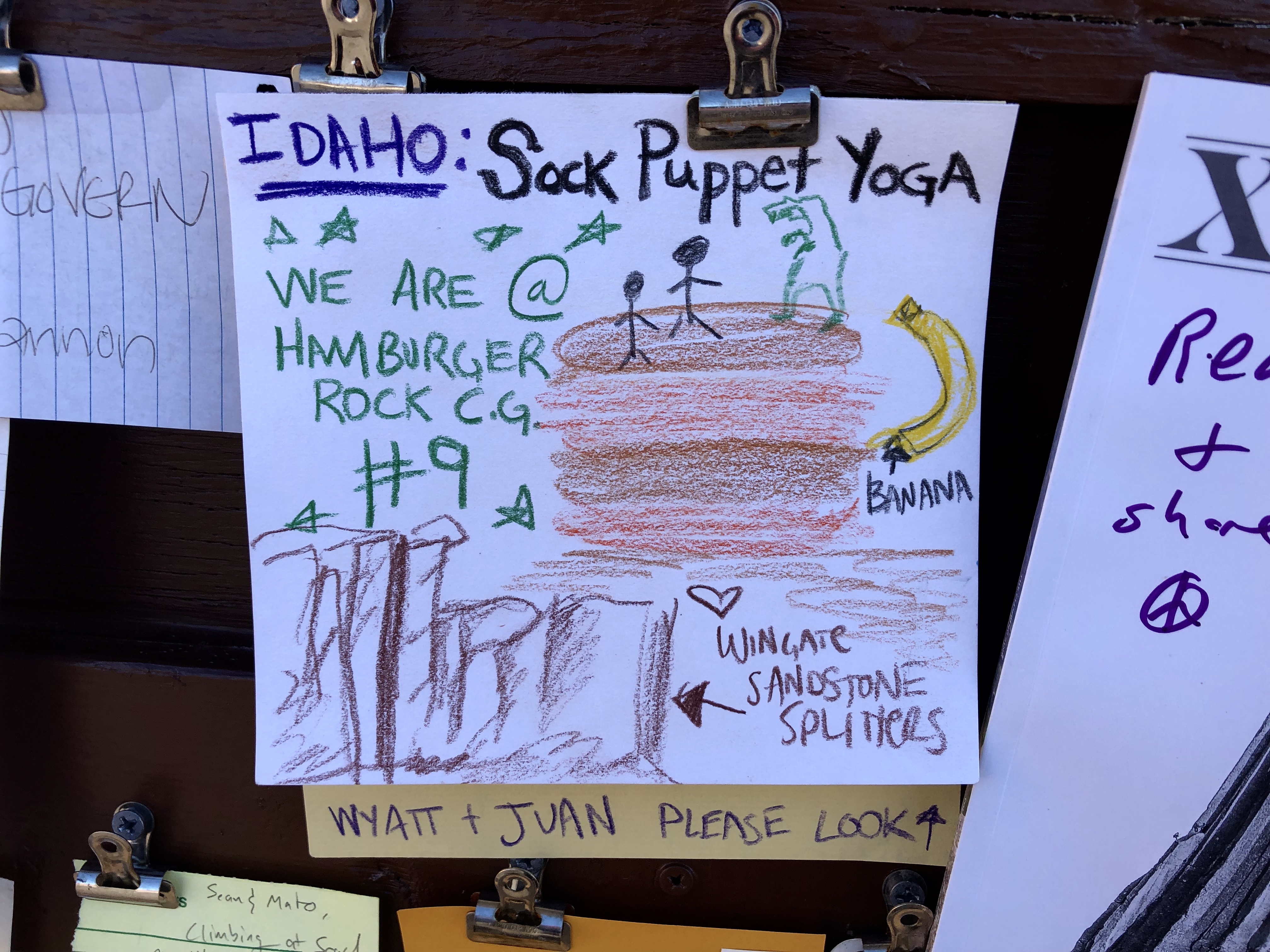 Despite the intriguing idea of doing yoga with a dinosaur on top of a cliff, I decided to keep my feet firmly planted to the earth and explore the attractions at ground level. Not far from the parking lot was a large flat rock, and when I looked closer I saw a single petroglyphs carved into it.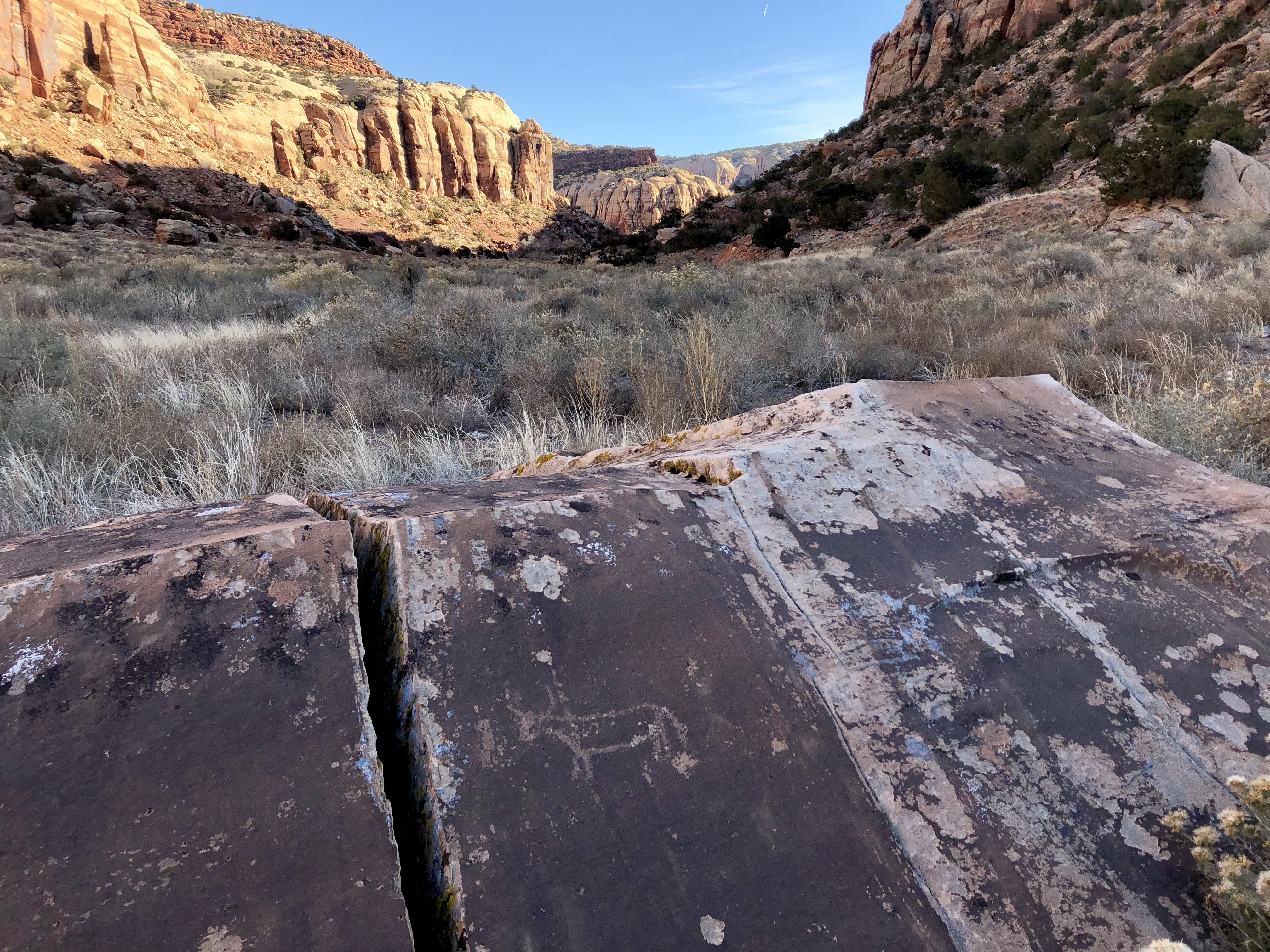 It was amazing that this fully exposed petroglyph was still visible after all these years. Erosion has been a constant and indiscriminate force in this canyon, and yet despite that, this little piece of artwork has survived, adding its voice to the messages left by those who came before.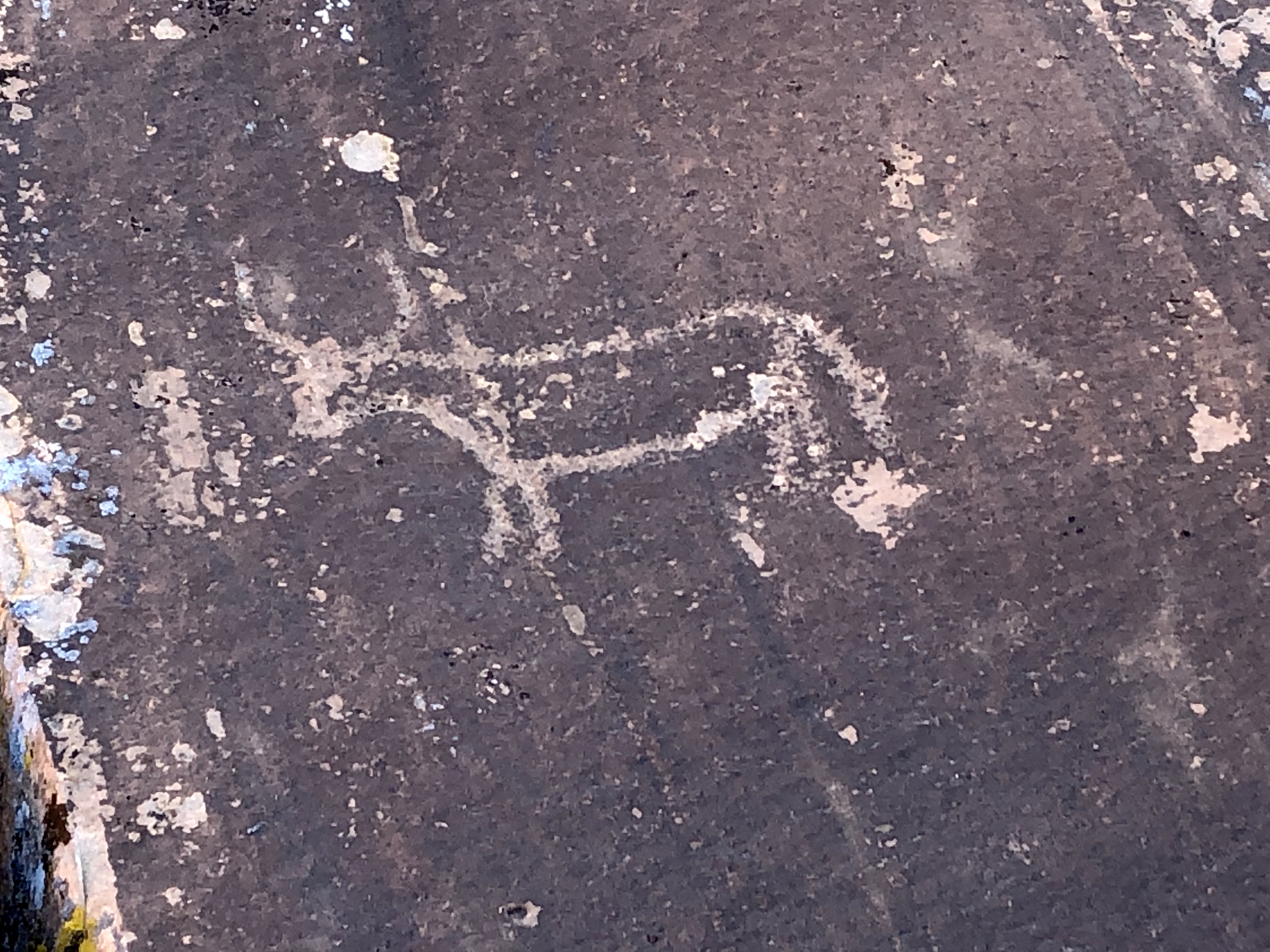 As Dingo and I continued on our exploration, we followed an old creek, to a dry waterfall.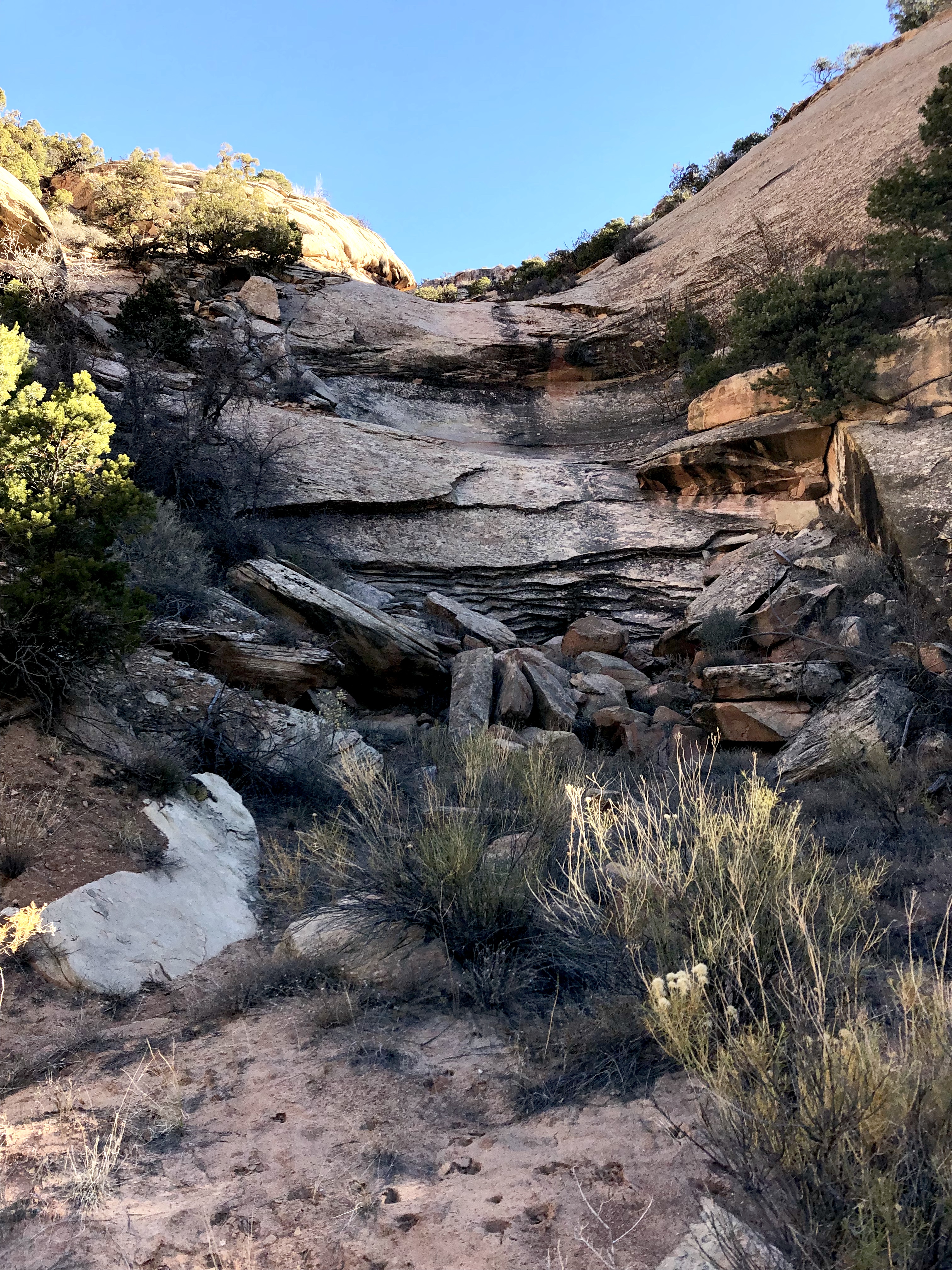 It was still morning, so the sunlight was casting shadows through the canyon that led us on our way.  We wandered down a trail, and ended up a newspaper rock.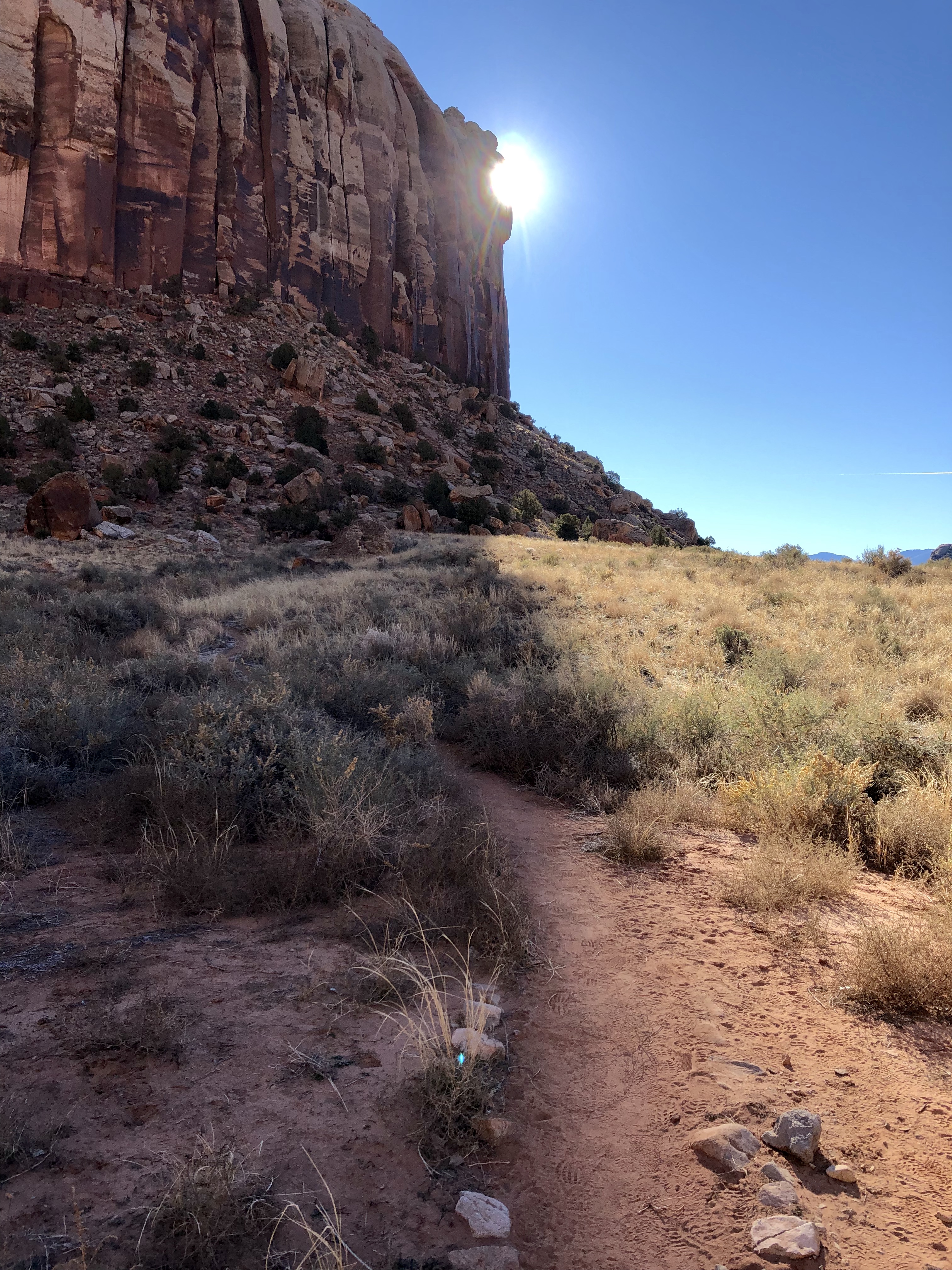 When I originally saw the sign for newspaper rock I figured it was a rock that somehow looked like a folded up newspaper. What I had in my imagination was underwhelming, but considering I was right here, I figured I should check it out.
This is newspaper rock.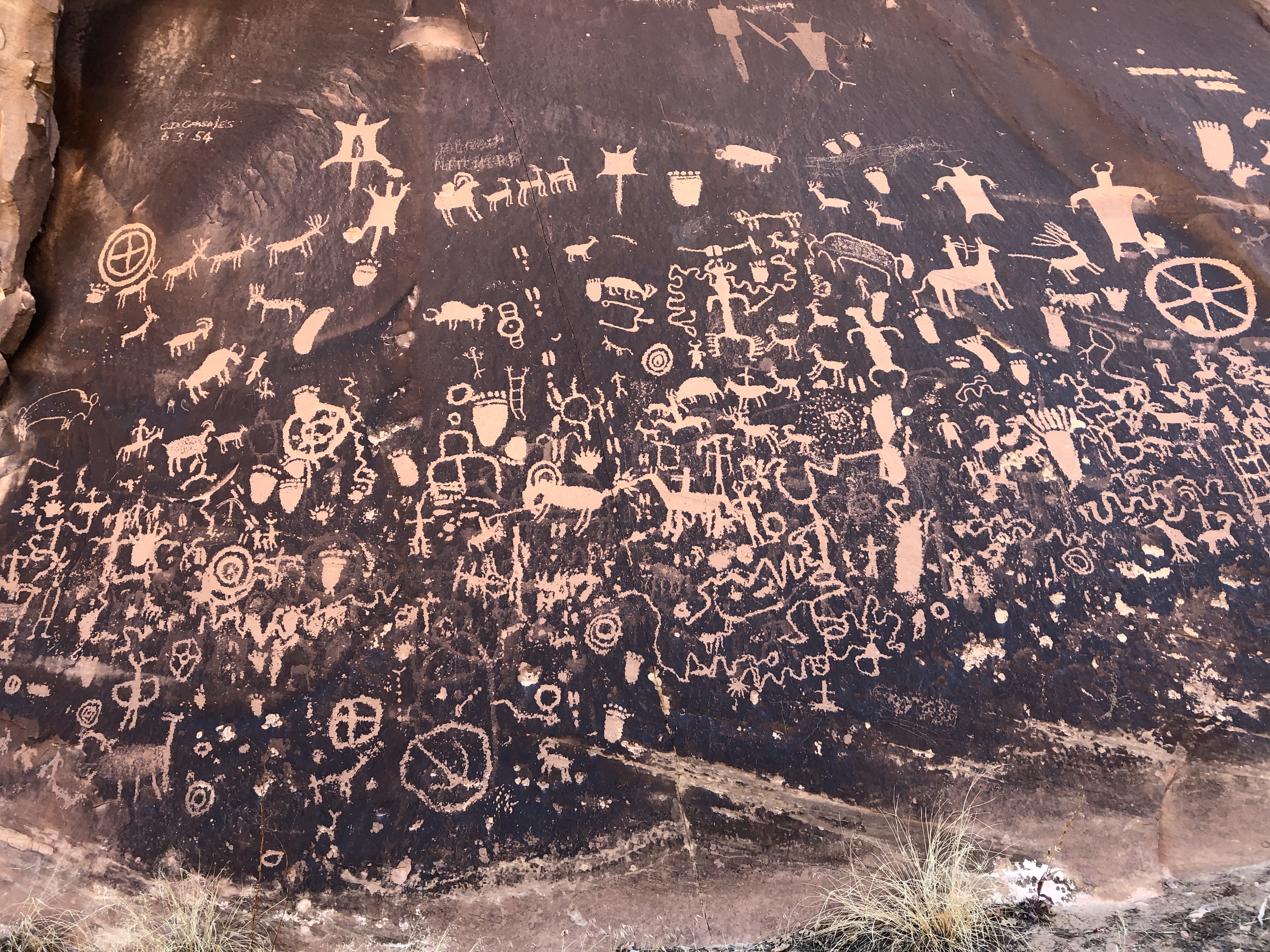 Needless to say that 1) I was horribly wrong, and 2) I'm completely speechless. There's so much to take in.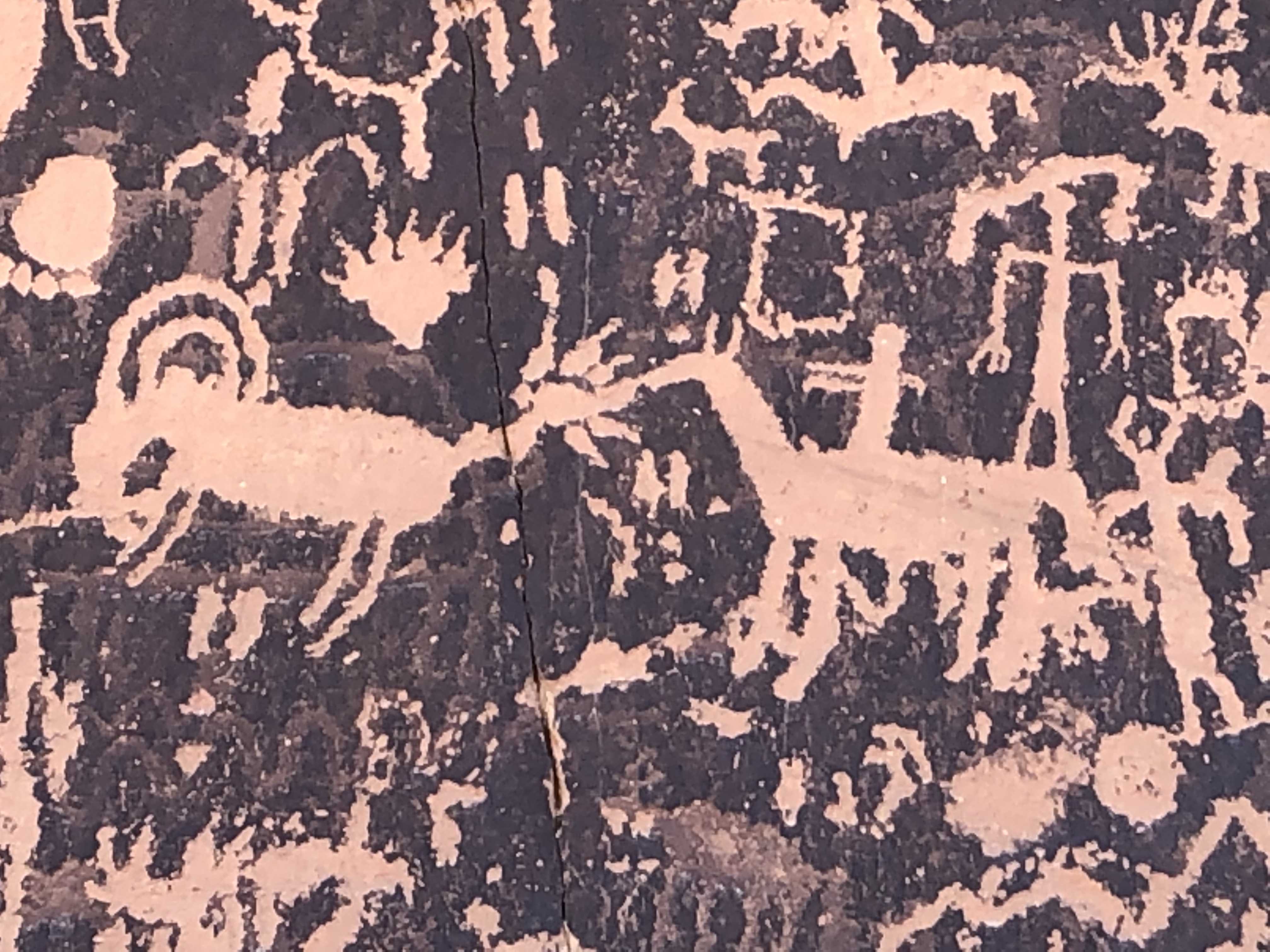 It's interesting to have just come from a modern day message board, to now be confronted with this ancient message board.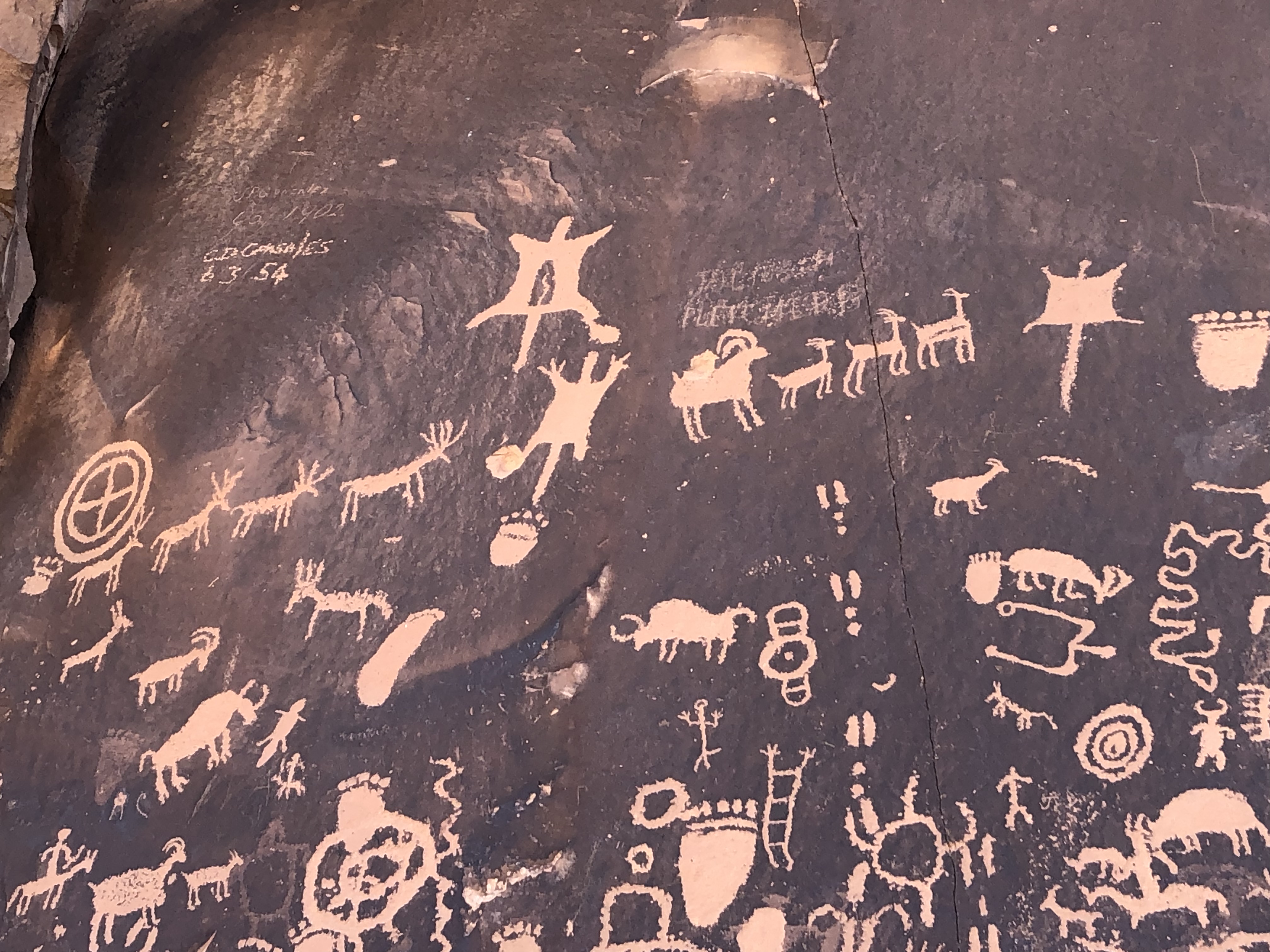 I have to wonder if, like the earlier message board, some of the more bizarre petroglyphs are the equivalent of an ancient person's version of "sock puppet yoga". Would an ancient class clown carve horns on a person as an inside joke to their buddies?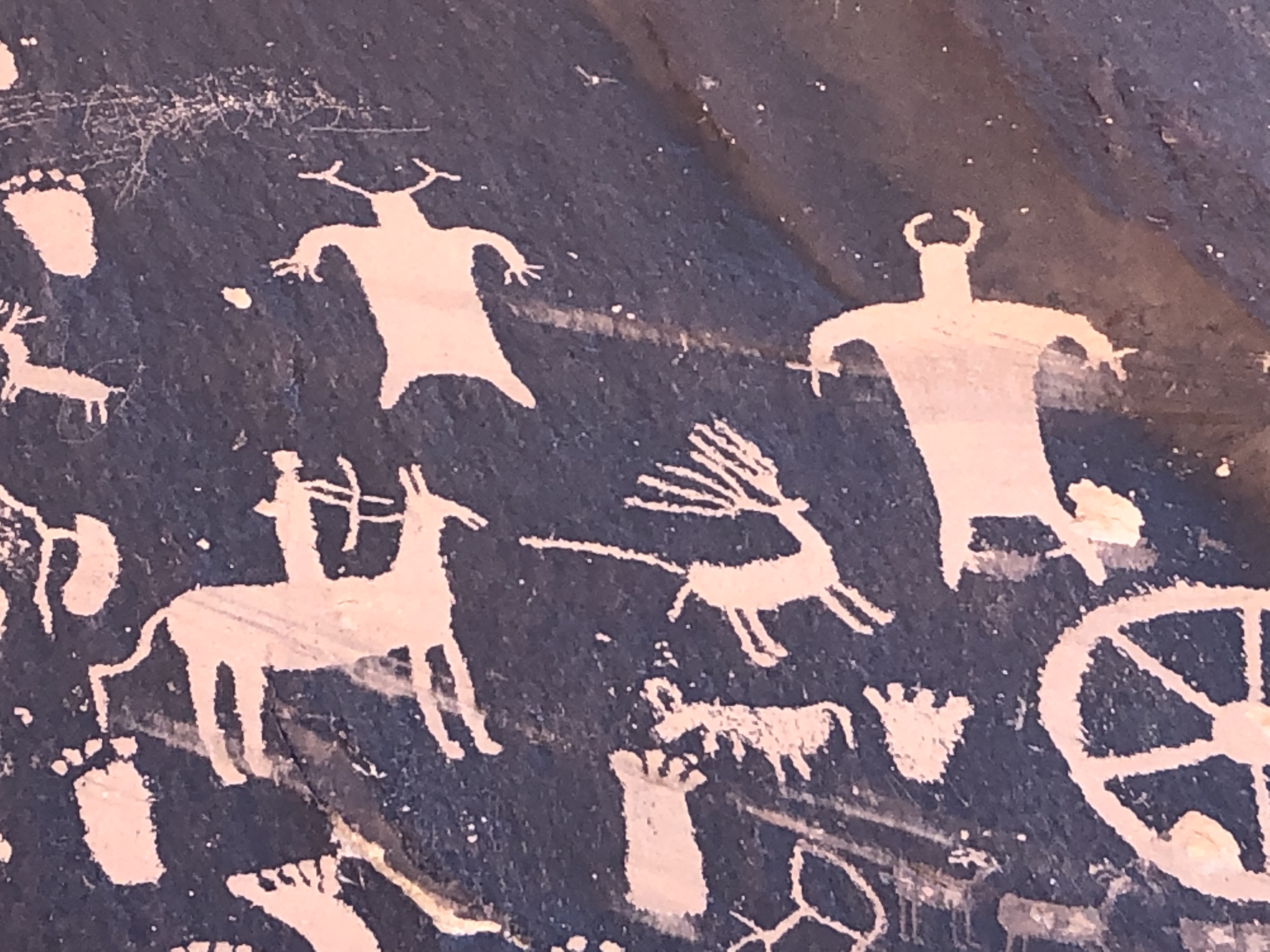 I could have stood there for hours trying to take it all in. As it was, I stood there long enough to watch a few groups come and go. Reluctantly Dingo and I returned to the car to move on. I had no destination beyond heading towards Vegas.
As I entered and then exited Moab, fondly remembering my time there last March hiking in Arches, I watched the red rocks fade to gray, golden, and orange, with touches of pastel blue and green woven in.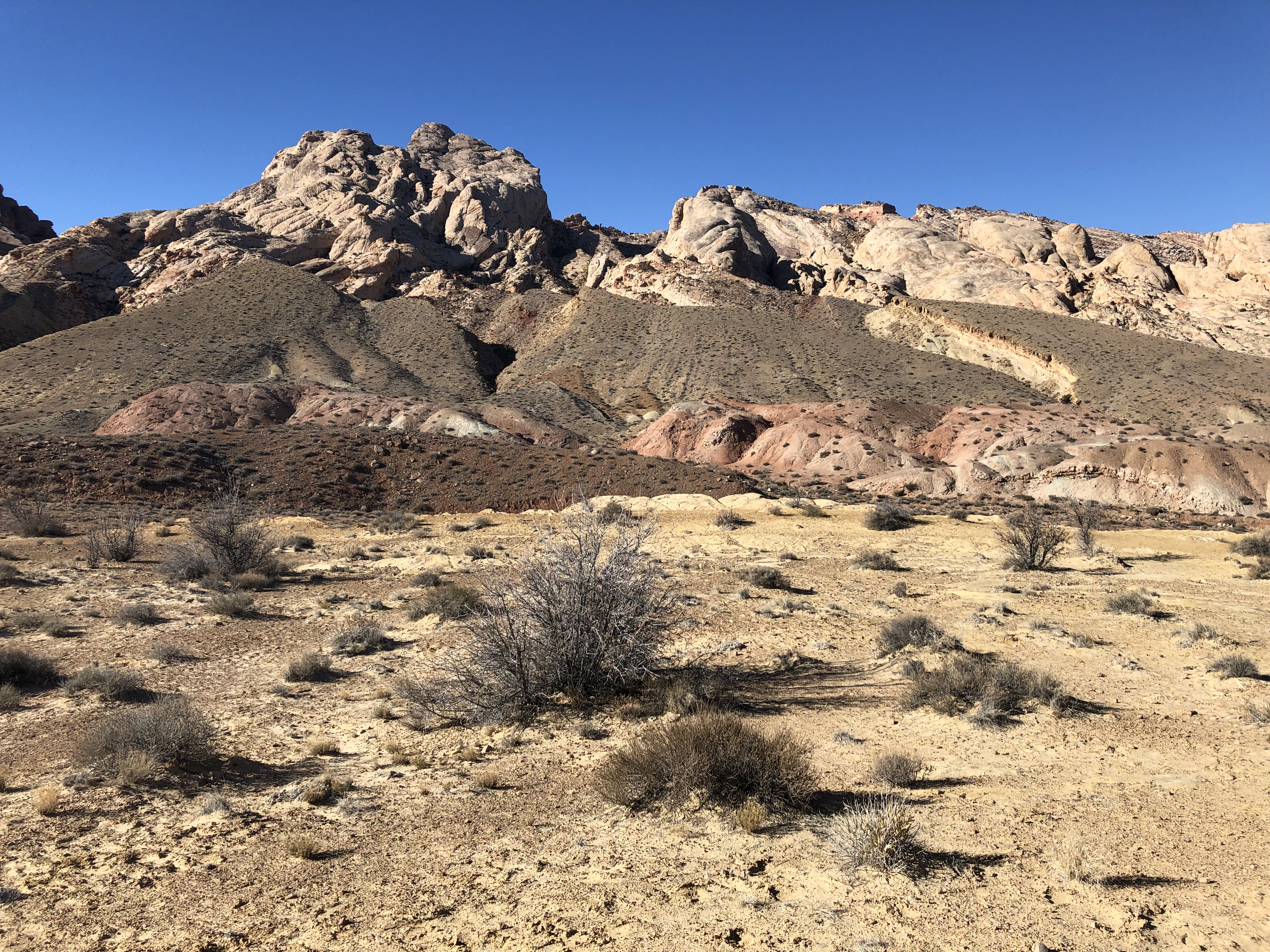 This entire region is like geologic wonder.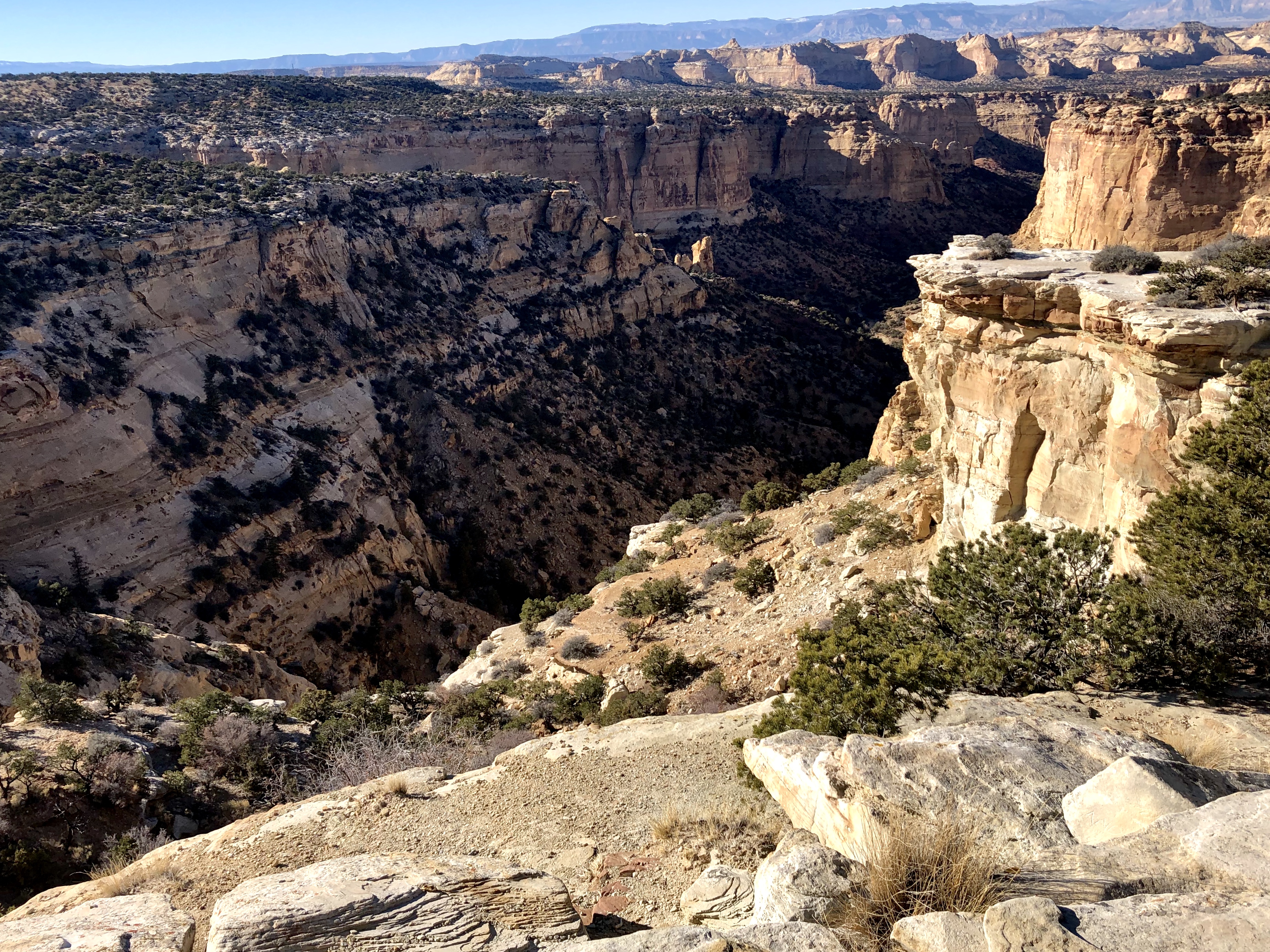 It looks as if a giant hand picked up gobs of earth, flipped it upside down and put it next to the hole it had pulled it out of.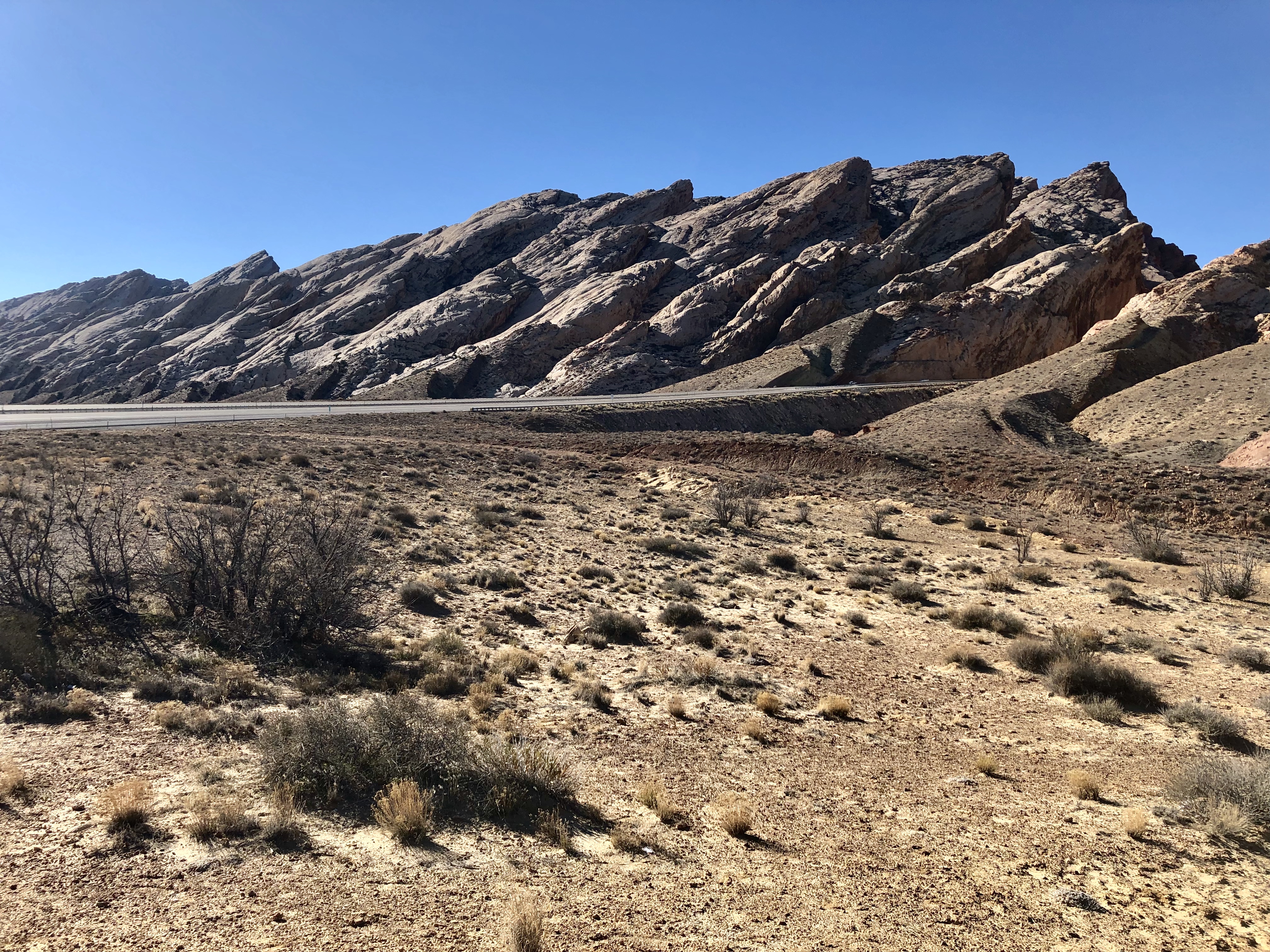 After driving for hours, stopping periodically to take everything in, I began looking for a place to camp. I put "camp" into Google Maps and found that there was a campground at the next exit in the Fishlake National Forest.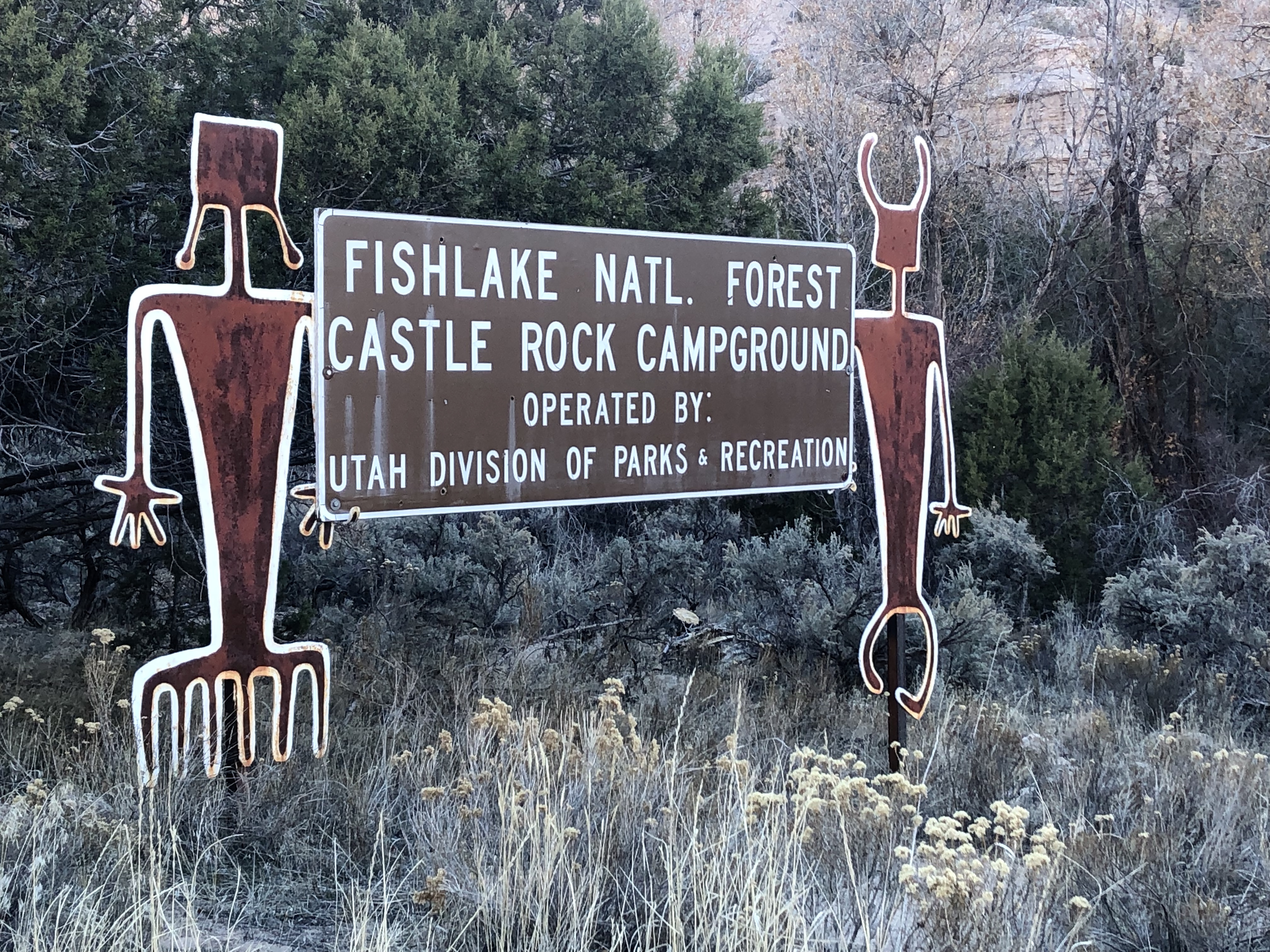 I headed in that direction and stumbled into a miniature version of Bryce Canyon.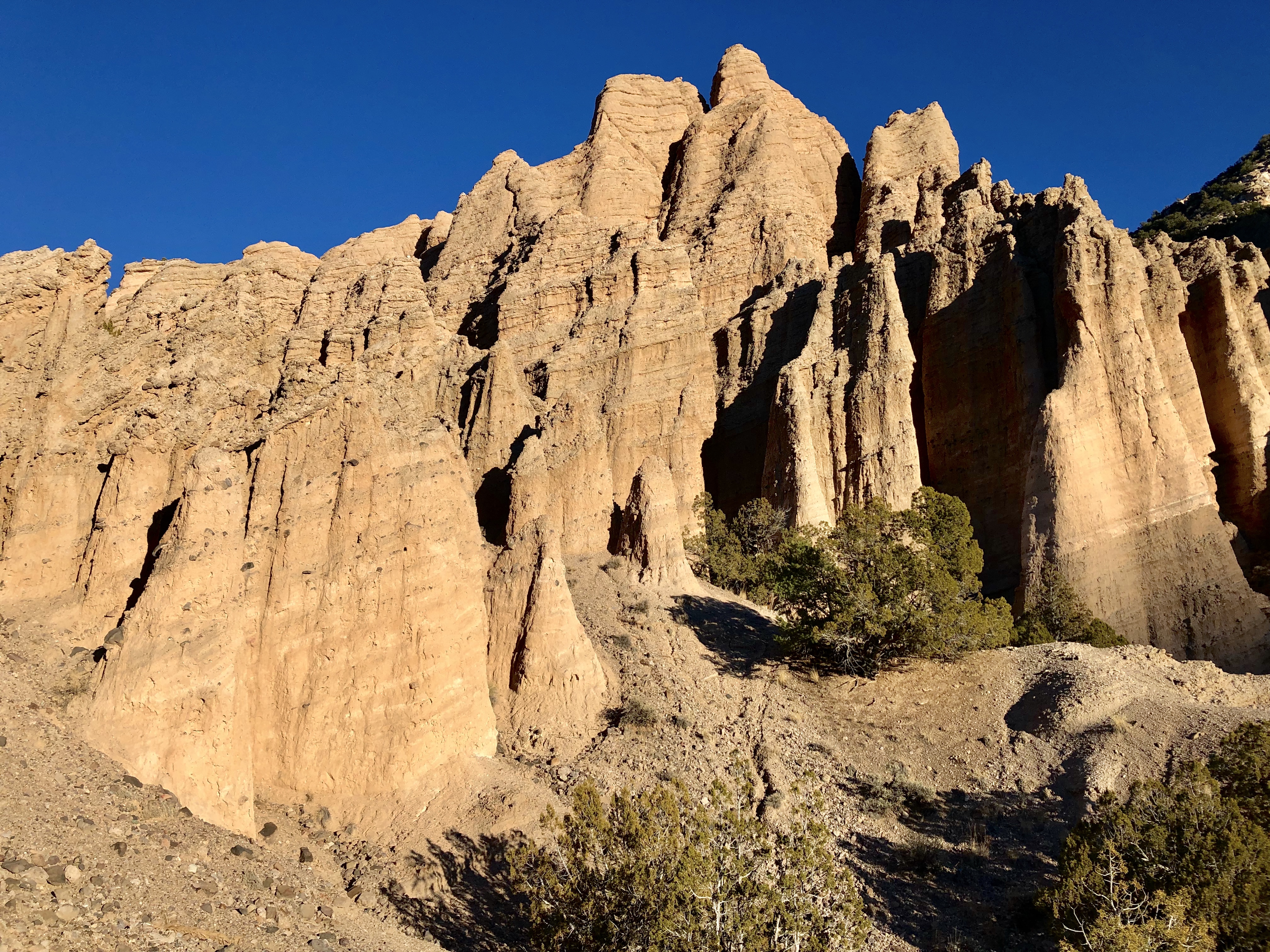 I was surrounded by orange pillars reaching up to the sky. There was just enough light left to explore, so dingo and I climbed as high as we could go.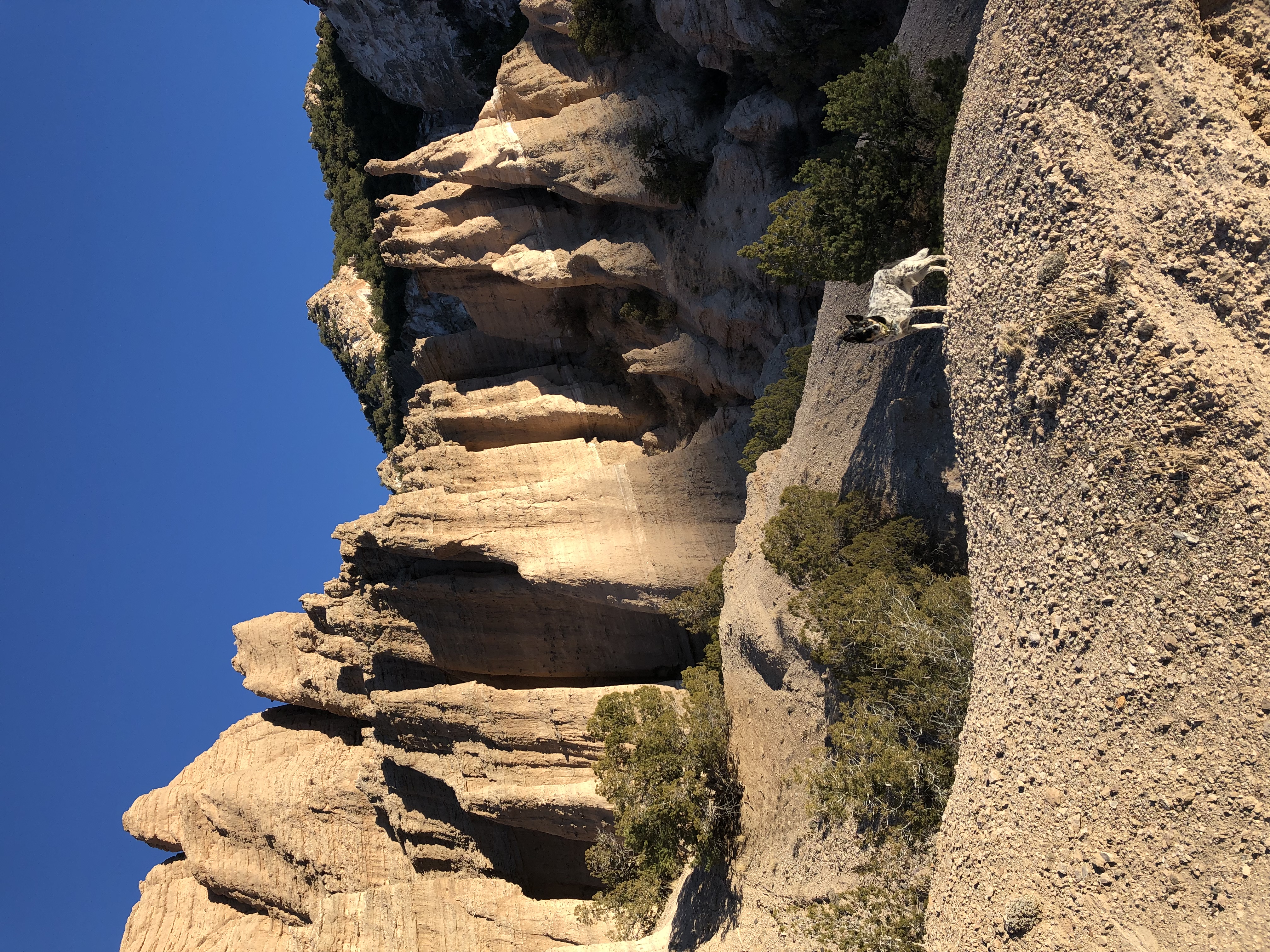 When I was in Bryce Canyon in March it was filled with people, and the dog restrictions meant I had to view everything from a distance. Now, having my own private version to explore freely with Dingo is such a gift.
The campground is boarded by a small creek that is completely frozen solid, so I'm extra. glad I discovered that heat dial. Now I'm excited to test it out! Dingo's going to sleep in her coat tonight too, just to be on the safe side.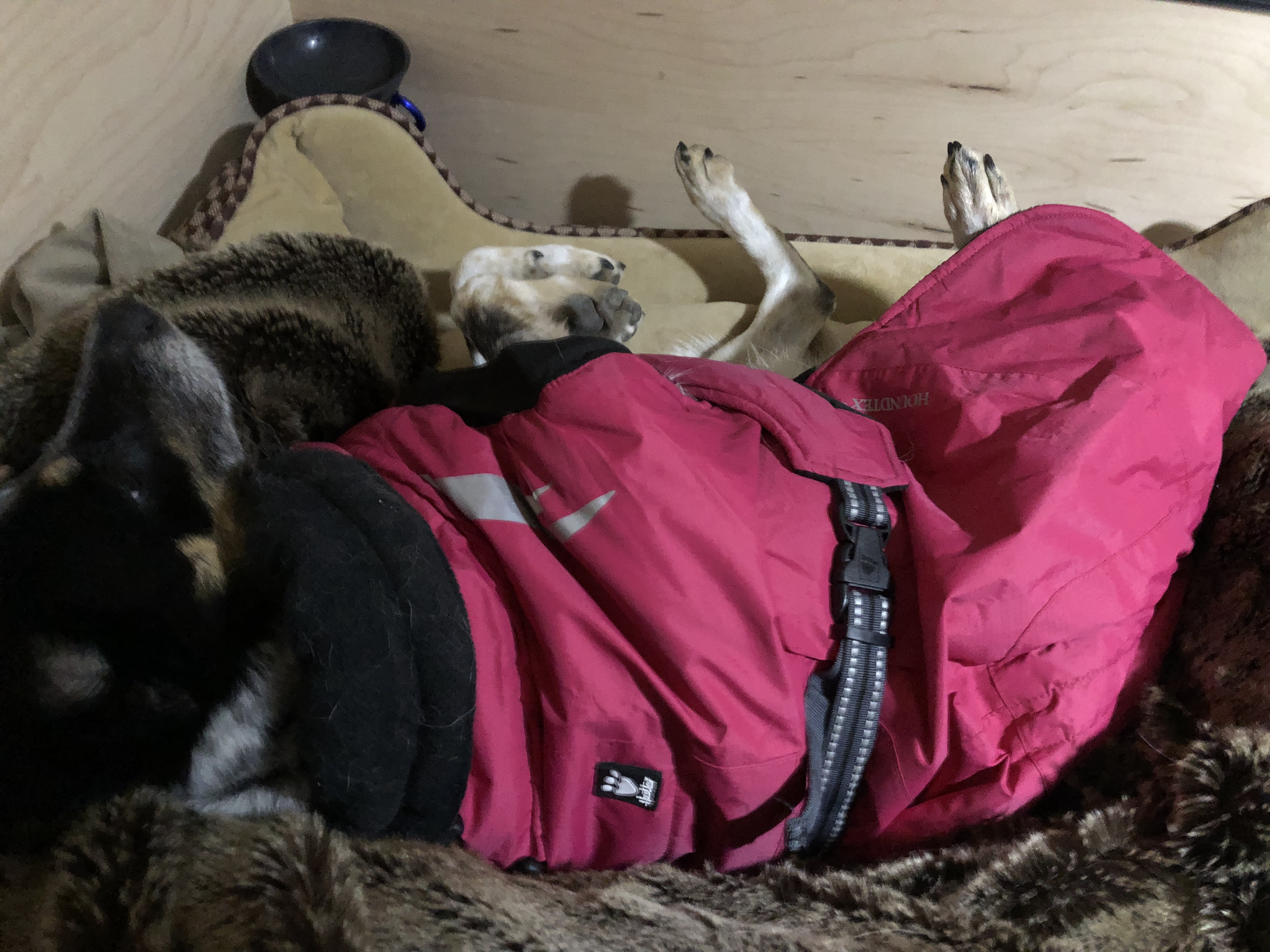 Tomorrow I think I'll head to the Mohave Desert. I don't have any interest going to Vegas. This trip has been so peaceful, and I've been exposed to so many different landscapes. Continuing to see new places and surround myself in nature is exactly how I'd like to wind down this trip.