I have recently received a number of questions about my trip. When am I leaving? What do I want to see? What's my plan? How long will I be gone?
These inquiries reminded me that I never actually told you my plan! I'm simultaneously insanely excited and irrationally (or perhaps rationally) anxious about it.  Given that I feel like I've been talking about it non-stop, it's hard to believe that key component to this blog has been overlooked.
As I mentioned in post number 2, the planning that goes into this sort of trip is extensive. The list of "things to do" keeps growing, while my timeline here in San Francisco keeps shrinking. Thankfully, my schedule is completely arbitrary, so I can make adjustments as needed.
Before I get into the details of my plan, I should mention that my timeline to leave the Bay Area is around March/April 2019. This should give me enough time to check off all the boxes on my long list of tasks.
Rather than overwhelm you with a novel, detailing the many levels of preparation (including but not limited to physical, mental, emotional, intellectual, and financial), I'm going to focus each of my blog posts on different slices of this travel planning pie.
I feel like you have a sense of what has driven the decision making around this trip and I intend to get into that more in future posts, however, for now let's take another step down on the planning list:
Step 1: Make a decision! (Check!)
As much as it freaks me out, I have completed this step and will move on to step two.
Step 2: Work on the brain: (In Process)
Considering this is probably the biggest hurdle I'll need to get over, we'll break this into Steps 2A, B, C, D…etc. Future posts will track my progress navigating this endless jungle of emotion, confusion, learning, doubt and empathy (among other unexpected mental & emotional challenges).
Step 3: Buy a teardrop trailer! (Check!)
Say what?! That's right! Get ready to be wowed!  I'm as excited as you are about step number 3!
One of the realizations I made during my road trip in March was that having a comfortable sleeping situation that was separate from my vehicle was really important.
I had my Tepui roof top tent for the trip, which was fantastic, but came with some limitations. It was comfortable, spacious, stable, safe, relatively easy to setup, and felt like a treehouse.  Frankly, the treehouse element was one of the most appealing characteristics of the tent!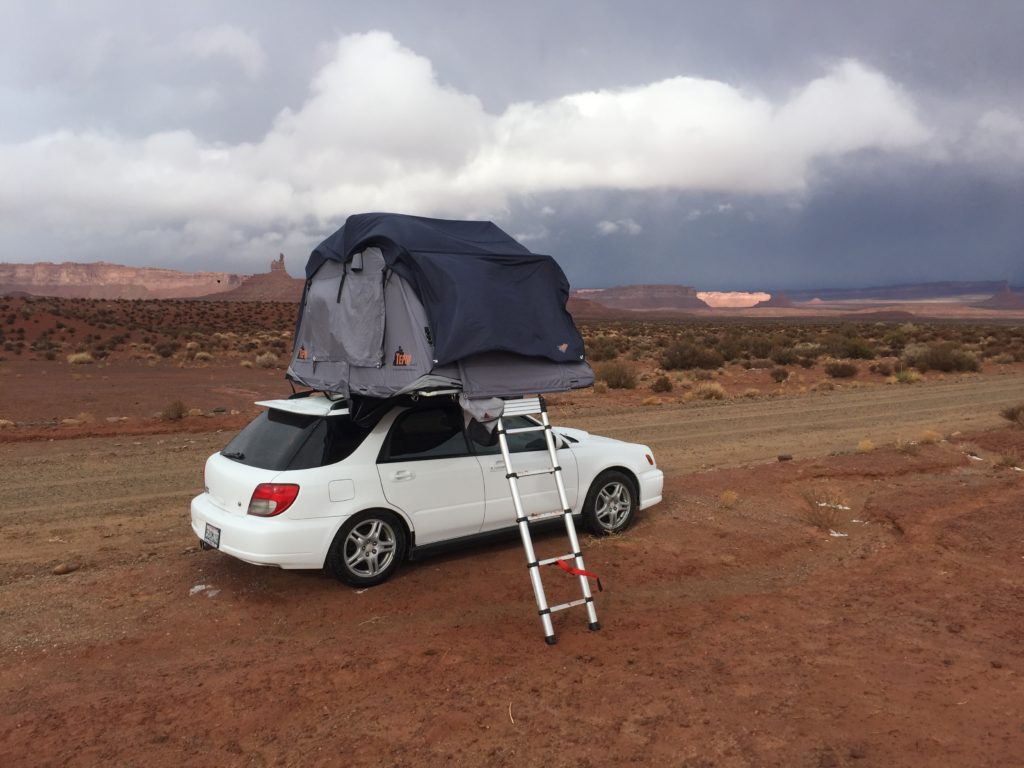 Unfortunately, while it wasn't hard to setup, once you've opened it up and filled it with your gear, you don't really want to unload it, fold it back up and pack everything in your car just to go pick up some fire wood or drive to that trail head. I definitely felt the limitations of having my bed and my transportation tied together and decided that I needed to delink the two.
Upon my return to San Francisco in early April, I immediately began looking into getting a trailer.
Researching Trailers:
A lot of research went into identifying the perfect trailer for my needs.  What I discovered was that the trailer landscape is broad and full of variety. At first, I thought I could be happy having a trailer that's primary function was to carry my Tepui tent. Something like this: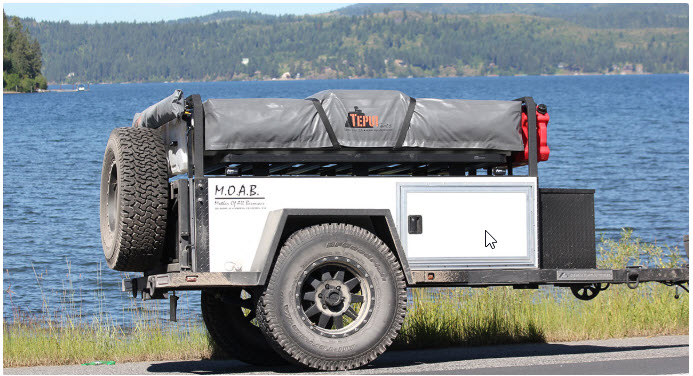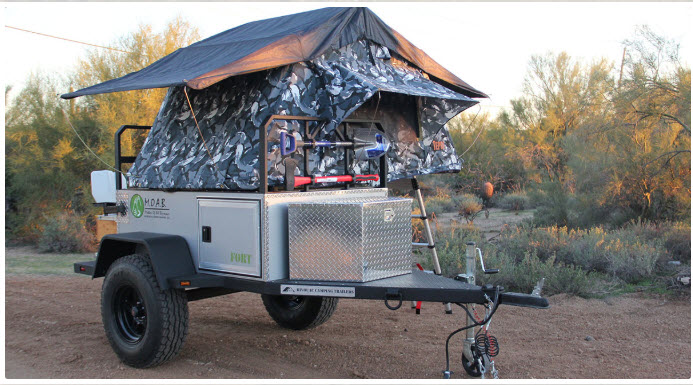 While this trailer is really cool and the thought of it made me feel a little extra tough, it also felt like a lot of the issues I had identified with my existing tent configuration would continue.
There were a lot of items strapped to the outside of the trailer that I feared could get stolen.
I had concerns that I'd constantly be putting the tent up and down to get into the storage area.
It was a little low to the ground. I prefer to make it moderately more challenging for those axe-wielding predatory animals that climb ladders to get to me.
With that, I scratched this idea and began looking into to the far extreme of personal protection. That's when I found the anti-zombie, road warrior, super tank: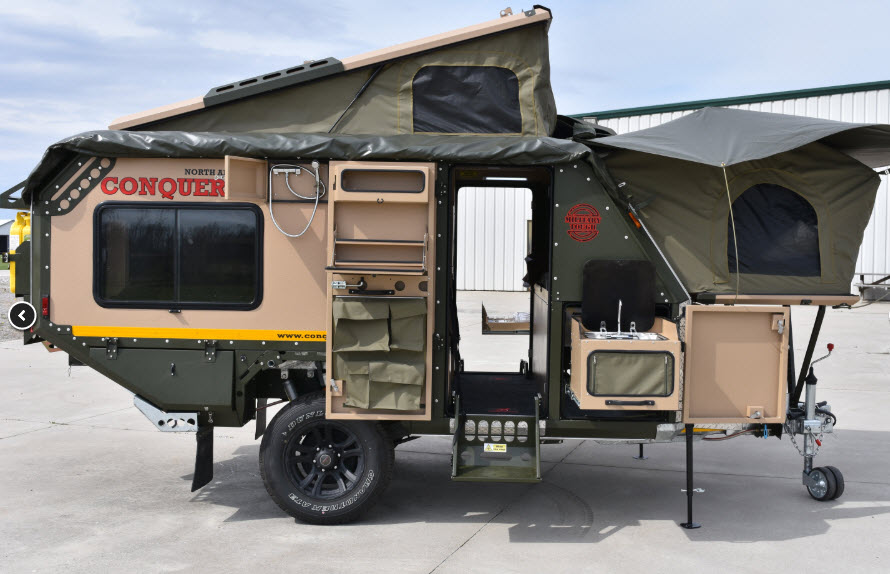 As you can see, this beast is the top choice for those looking for badass, super-butch, over the top, hunting sasquatch in the deep wilderness of Alaska trailers.  While I have high confidence that I would be safe from both bears and super-creep-o's in this mobile bomb shelter, I have less confidence that my little Subaru would be able to haul such a behemoth.  Given that I couldn't purchase both a monster truck and this trailer, I had to scratch this idea.
Then my research took a turn towards luxury: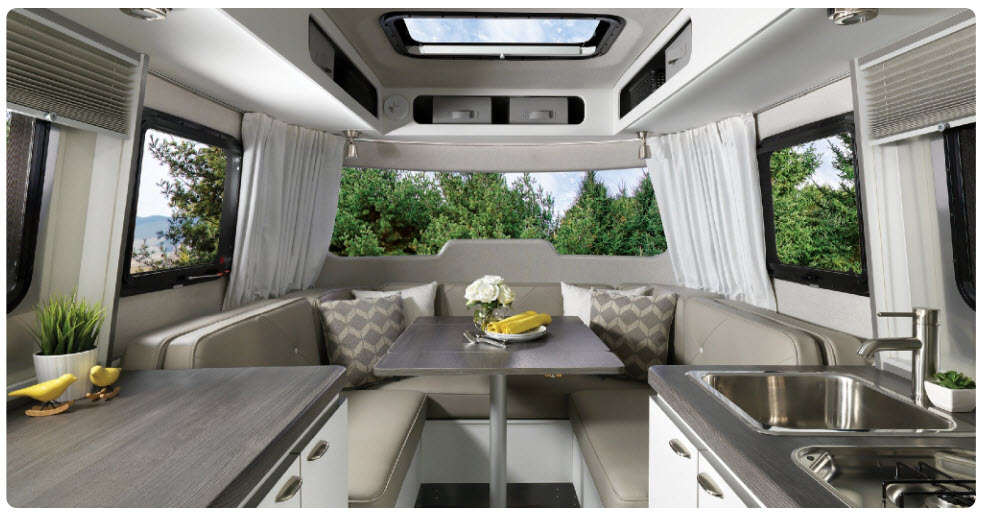 This little beauty is the ultimate in pint-sized luxury.  It comes with a fully contained kitchen, toilet, shower, lounge area, skylights and all the comforts of home in an adorable little package.  Unfortunately, it also comes with an insane price tag that only those with luxury yachts in Monaco could appreciate as a bargain.  
All this got me to thinking, realistically, I'm fine with peeing (or pooping, although that's less ideal) in the woods.  Of course, if I have the choice between a toilet and a tree, I'm going to pick the toilet; but all that really matters when you have to go is that there aren't any spectators.
With this realization I came to the conclusion that I needed to sit down and work out my personal trailer requirements.  Here's my list:
I had to be able to afford it (my budget was under $10,000)
It had to fit in my garage WITH my car (so it had to be small)
It had to offer me protection from the elements, animals and creeps (so it needed walls)
It had to be comfortable, so it needed a bed that could fit a 6'2″ woman and her dog.
It had to have storage
It had to be wired for electricity
It had to have a kitchen area
It had to be light enough that my car could tow it (under 2000 lbs.)
It had to be able to carry my tent on top
It had to either check the "adorable" box or the "badass" box
With this list, I returned to my research and finally landed on this adorable, practical and not too expensive beauty.  Not this specific one, but this model.  It's a TC Teardrop Trailer that's fully customizable.  I'm having mine painted white to match my car.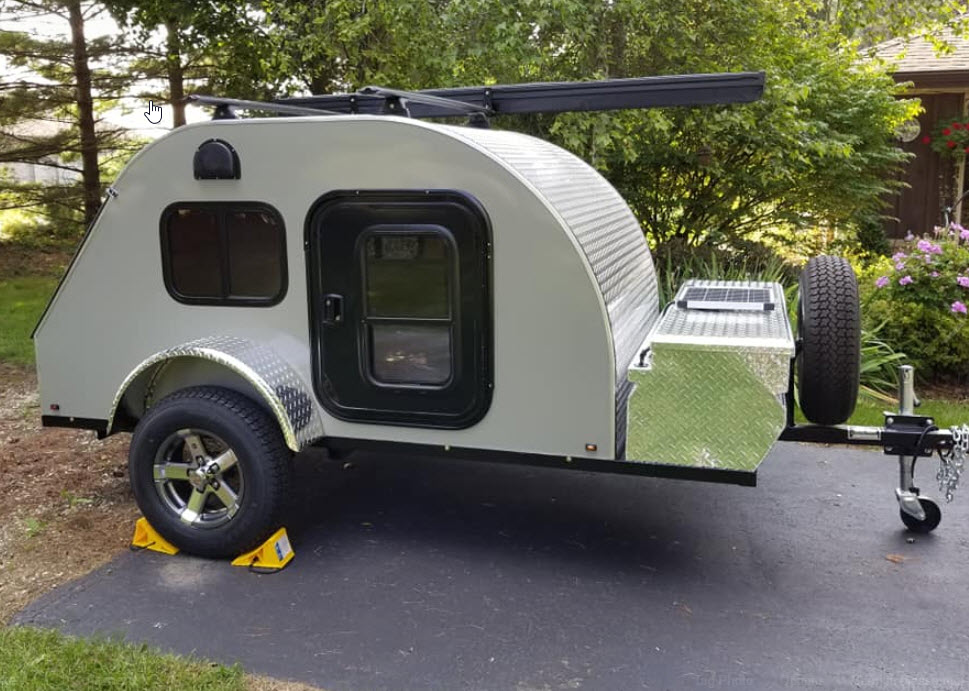 It's light at only 900 lbs.,
It has a solar panel and wiring.
It comes with a cushy queen-sized bed
It's 9 feet long, so my legs can be fully extended when I sleep
It is made of wood, so I can put my woodworking skills to the test by adding a few customized features (like shelving and storage).
It checks the adorable box
It will keep out wierd-os with its walls
It can carry my tent on the roof rack making it capable of sleeping 4 people
It has a galley kitchen to centralize and contain all of my food and cookware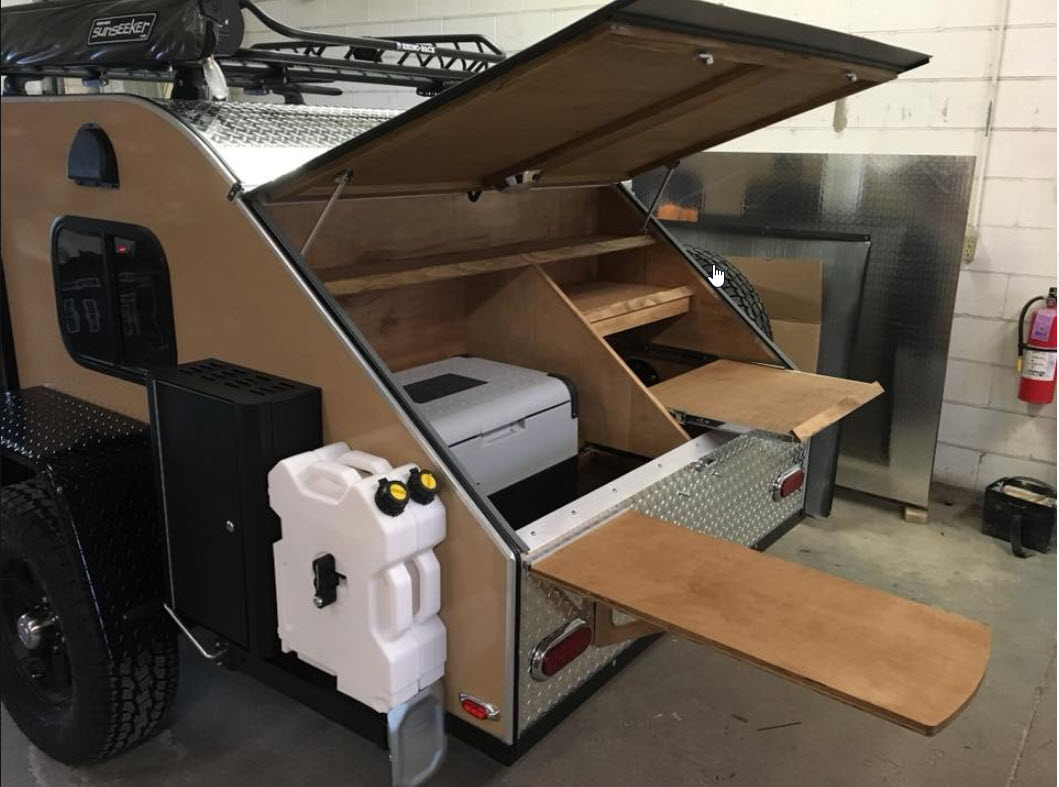 In the end, it will look something like this when it's completed: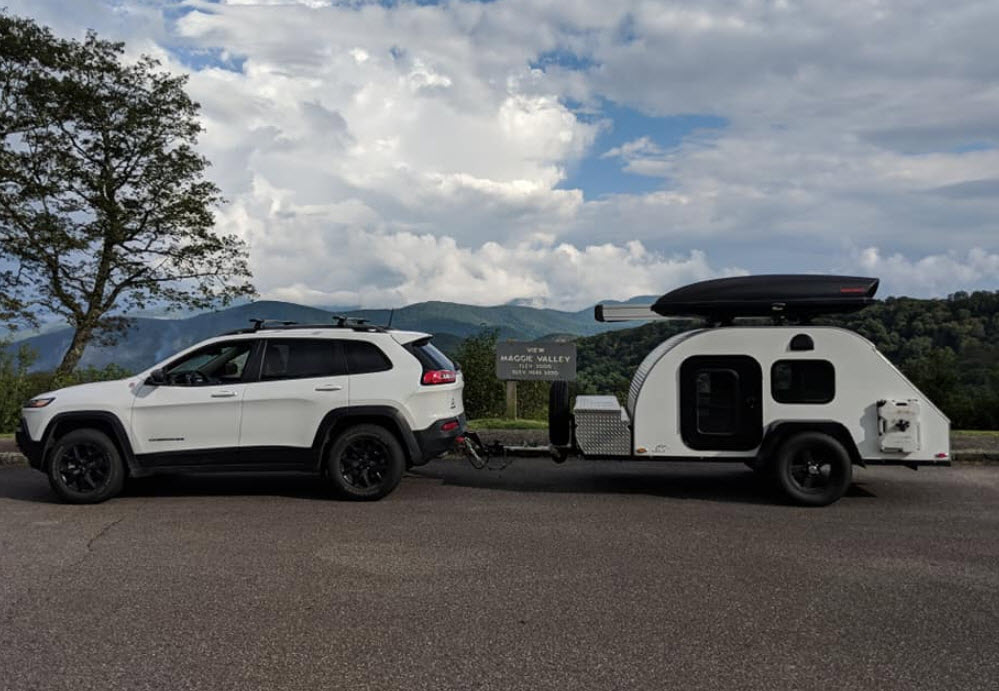 Picture it with a white Subaru and a roof top tent.  Also, my wheel fenders will be blue and round, rather than the square jeep-style fenders.
The trailer will be ready for pickup in November, so my next mini-road trip will be from San Francisco to Wisconsin to pick it up!  I plan on taking you along with me on that trip so stay tuned!!