A large portion of my free time these days is being spent in preparation for my upcoming work break, therefore, much of this blog is going to concentrate on that preparation.  That said, I don't intend to sit at home between now and then waiting for adventure to come to me!  With that in mind, here's a brief review of my most recent camping trip over the Labor Day weekend.  In celebration of my friend's 40th birthday I joined her and some friends at Sunset State Beach & Campground.  Check out my review below:
---
Sunset State Beach
Sunset State Beach is south of Watsonville, CA and is a beautiful long stretch of sand-dune protected beach within the Monterey Bay Marine Sanctuary.  Whether it was a pleasant side effect of the overcast weather, or the exceptionally popular Manresa beach to the north, we were lucky to have the beach mostly to ourselves.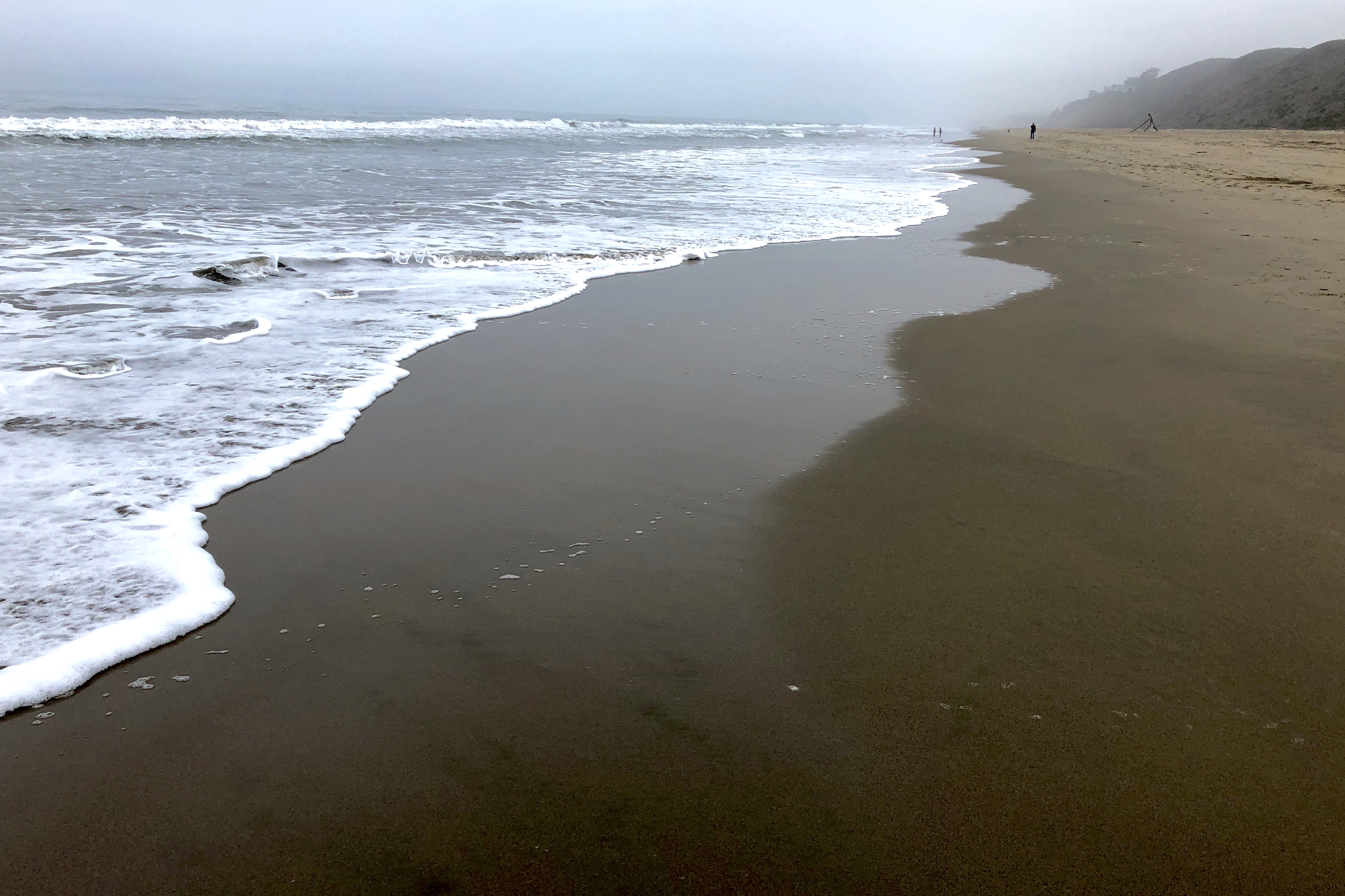 We shared this slice of the Pacific with a handful of surfers braving the cold, a couple sandcastle building pint-sized architects and a few fisher-folk who were successfully pulling jacksmelt from the surf.
The quiet beach gently disappeared into the blanket of fog that softly rolled up the sand dunes.  Unlike the typical foggy days of Northern California, this day was comfortably warm.  It was as if the cloudy blanket above us was insulating beach goers from the cold ocean breeze.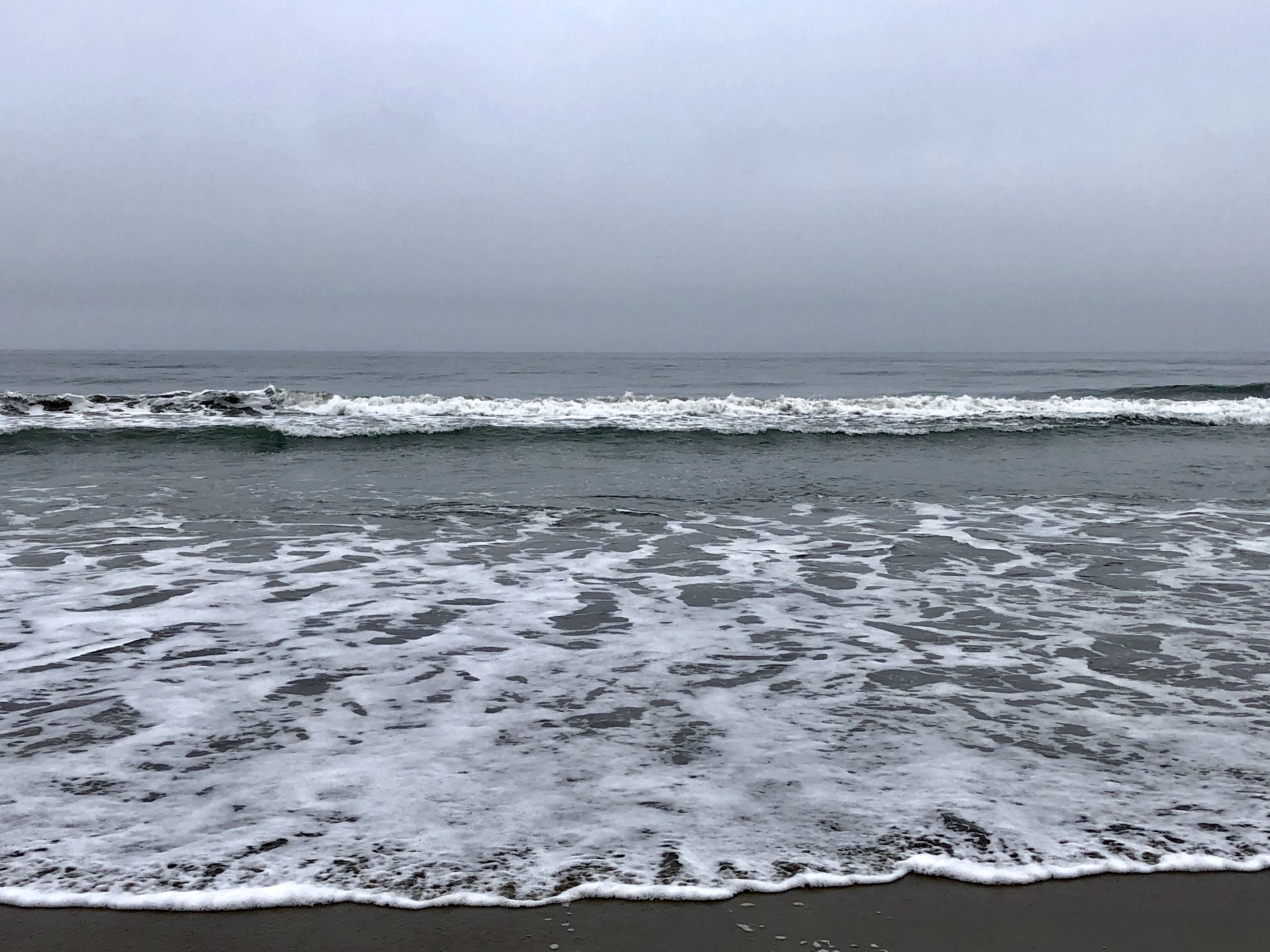 Sunset State Beach Campground
While we were lucky to have the beach to ourselves, that luck did not extend to the campground itself.  To be fair, it was Labor Day weekend and we were hardly alone in wanting to take advantage of the long break from work.  Therefore, sharing a packed campground with other outdoor enthusiasts was not a surprise.
The campground is nestled between the broad and expansive strawberry fields of Watsonville, and the seemingly endless blue of the Pacific Ocean.  The strawberries were protected by a blue plastic covering, seamlessly blending the blue sky, to the blue earth, into the blue Pacific.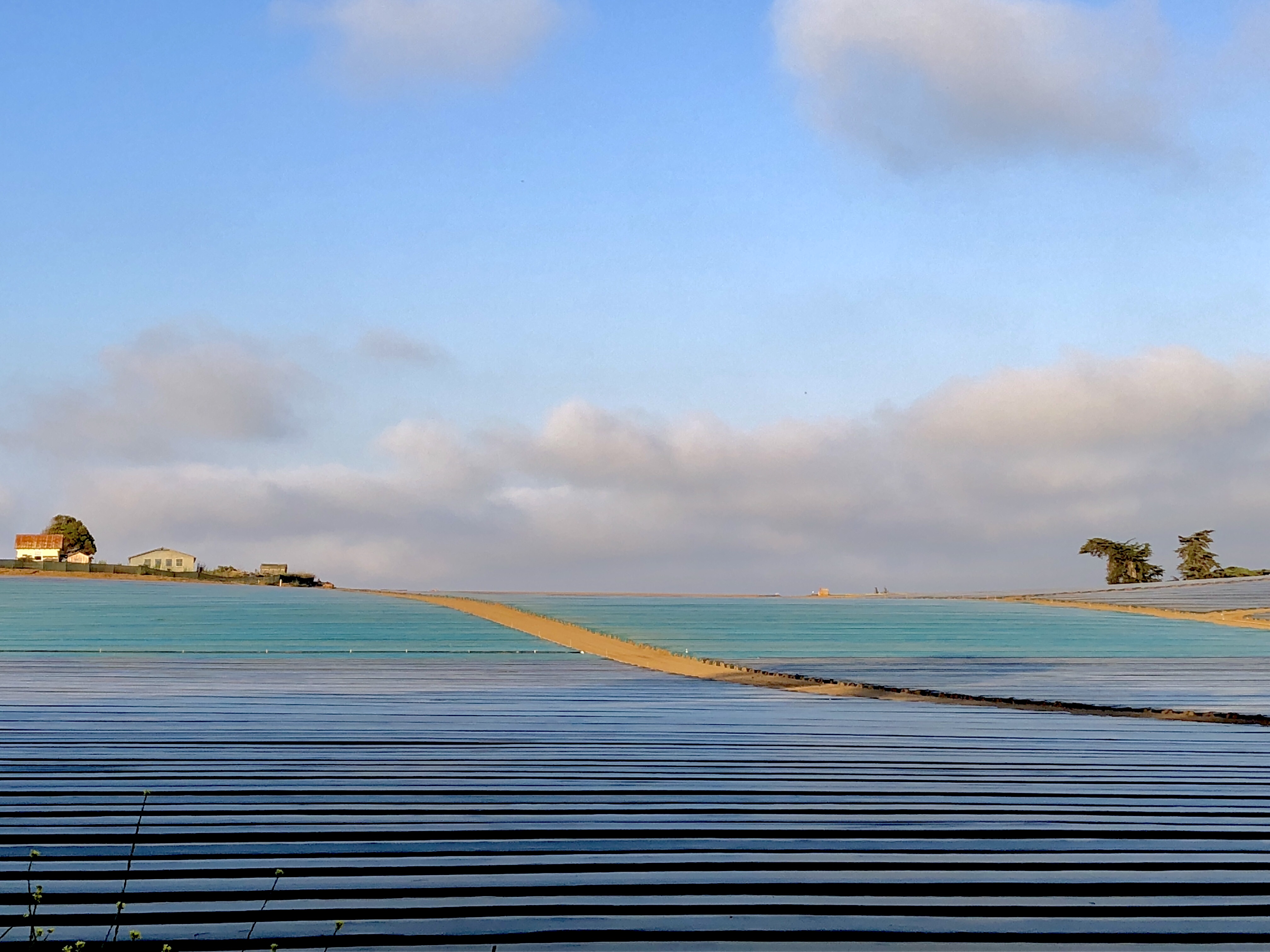 Despite being an open campground, the strategically placed cypress trees offered pleasant shade, and the sand dunes provided a wall of protection from the constant sea breeze.
Typically, when I think of camping what comes to mind is fresh air, birds chirping, crackling camp fire, and peaceful immersion in nature.  Unfortunately, this was not my experience at Sunset State Beach Campground.  If you prefer a social camping experience, this is the place for you!
There were groups of kids playing with each other, new and old friends sharing adjacent sites, and frequent interaction with other campers.   While one result of this was a pleasant social experience, the flip side was that the campground was absent the tranquil quiet one might typically associate with camping.  Music, laughter and the periodic hollering from across the campground gave it more of an urban acoustic flare.
Protect Your Gear from Entitled Interlopers
Perhaps the most unusual and unnerving surprise was that our site had frequent visitors wandering in to observe my Tepui tent.  While I'm accustom to showing off my tent to fellow campers, usually they ask before they start their investigation.  My overall experience at campgrounds is that people tend to be quite respectful of personal space and belongings.
Of course, there's always that one.  In this case, it was a middle aged white fellow wearing camouflage.  He must have been under the mistaken impression that his camouflage hat and pants made him fully invisible to our untrained eyes.  Either that, or that he was entitled by the powers granted to him by social constructs of racial and gender superiority to walk into our camp site and start looking in and around my tent.
Thankfully my friends were able to keep an eye on my gear as he collected his reconnaissance, but it was just another reminder to never leave valuables out where someone could take them.  If only these two had been stashed in my tent during this encounter our little camp site invader would have gotten quite the surprise.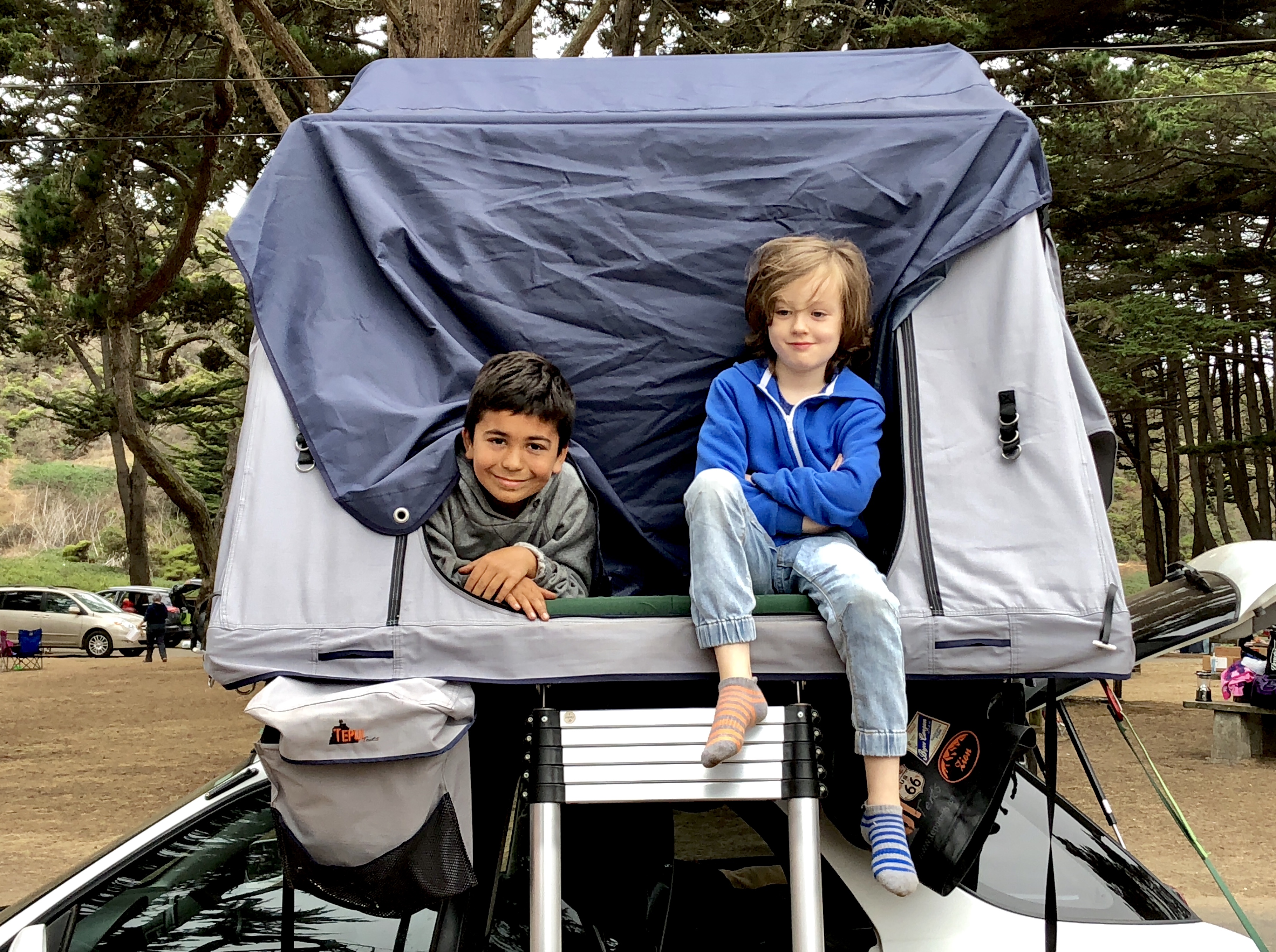 Don't Forget Your Best Friend
As you know, I rarely go anywhere without Dingo.  For my fellow dog owners out there, you should keep in mind that dogs are not (technically) allowed on Sunset State Beach. That said, we took our 3 dogs to the beach after an earlier visit gave us a chance to witness a person playing with their completely out of control pup directly in front of park rangers and lifeguards.  While you can consider this a warning that you could be ticketed, the rule does not appear to be enforced.  As you can see below, Dingo was VERY excited that she could enjoy the beach with the rest of us!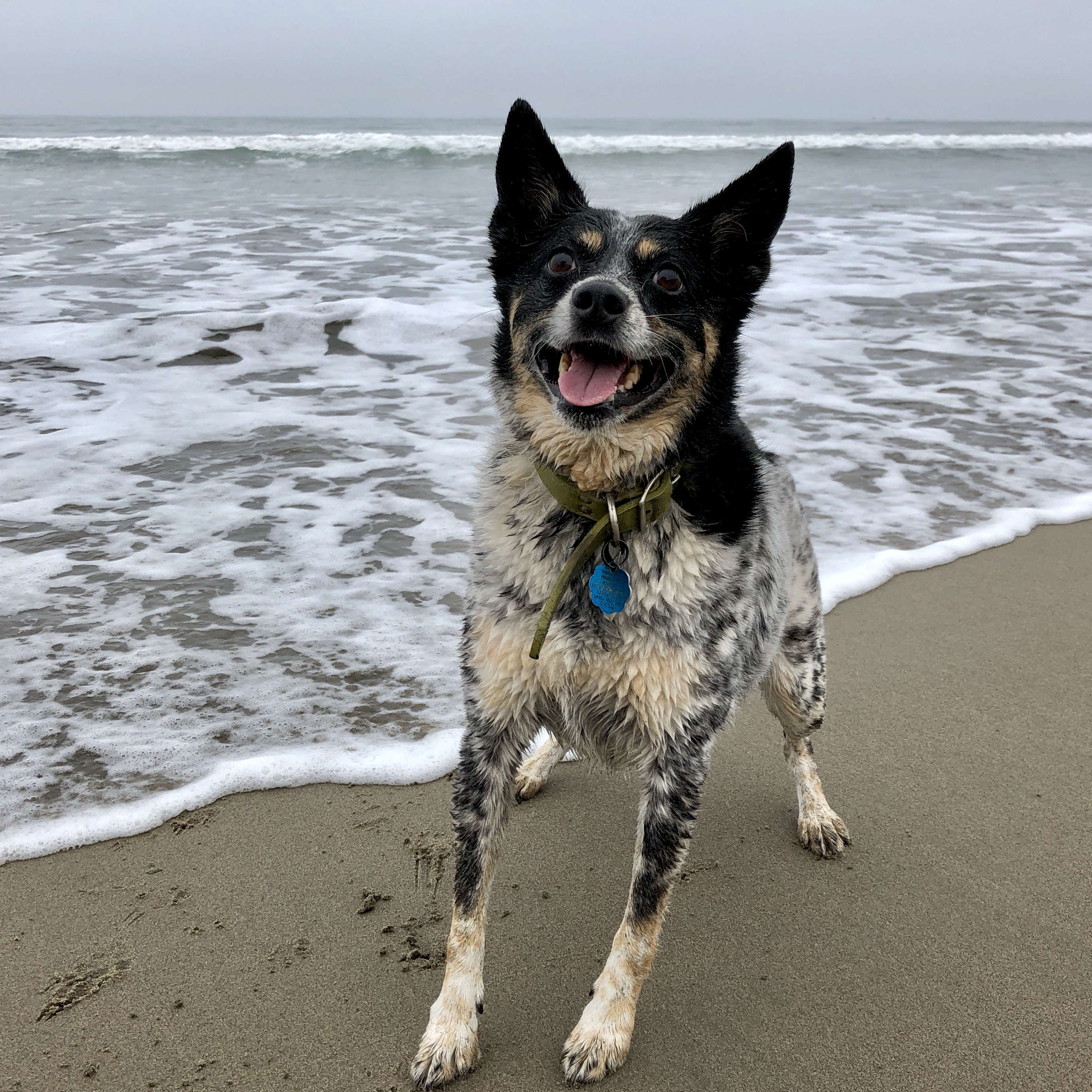 If you do choose to take your dog to the beach, please be aware of the habitat and make sure you clean up after your pup.  Don't ruin it for the rest of us by being like that careless dog owner who was letting her dog run wild in front of authorities.
In Conclusion:
Sunset State Beach has a little bit of fun for everyone!  There's fishing, surfing, boogie boarding, kite flying, fetching, sand castle building, and (if you're lucky) sunbathing.  It's a beautiful beach for an afternoon of fun.  The campground was well kept and nice, but loud and busy.
If you love sleep as much as I do, the most important take away is to bring ear plugs!  Otherwise you'll be kept up late and woken up early!