For those of you who are curious as to how I got from place to place, below is the original intended route, and then the actual route I took out to Wisconsin and back to San Francisco.
---
The Original Plan
When I started this trip I channeled my inner planner and fully mapped out an itinerary.   Everything was in place.  I practically had the coordinates set for when I'd see a cow (which, by the way, would have been nearly continuously throughout my journey).
In retrospect, this excessive planning was, most likely, to mitigate my travel anxiety rather than to have the optimal course in mind.  That said, the path I was going to take would deposit me at campgrounds throughout the Midwest while passing through some sites like Medicine Bow and Mount Rushmore.
Here's my original planned route to Wisconsin:
The original route – San Francisco to Wausau:

As you can see, the California in me is strong, so my optimistic perspective of the world is that winter begins in January.  I figured, "why would there be anything but beautiful fall colors and a slight chill in the air when camping in Wyoming the week before Thanksgiving?"  I have since learned my lesson.  Lest we forget this is what I woke up to in Wyoming: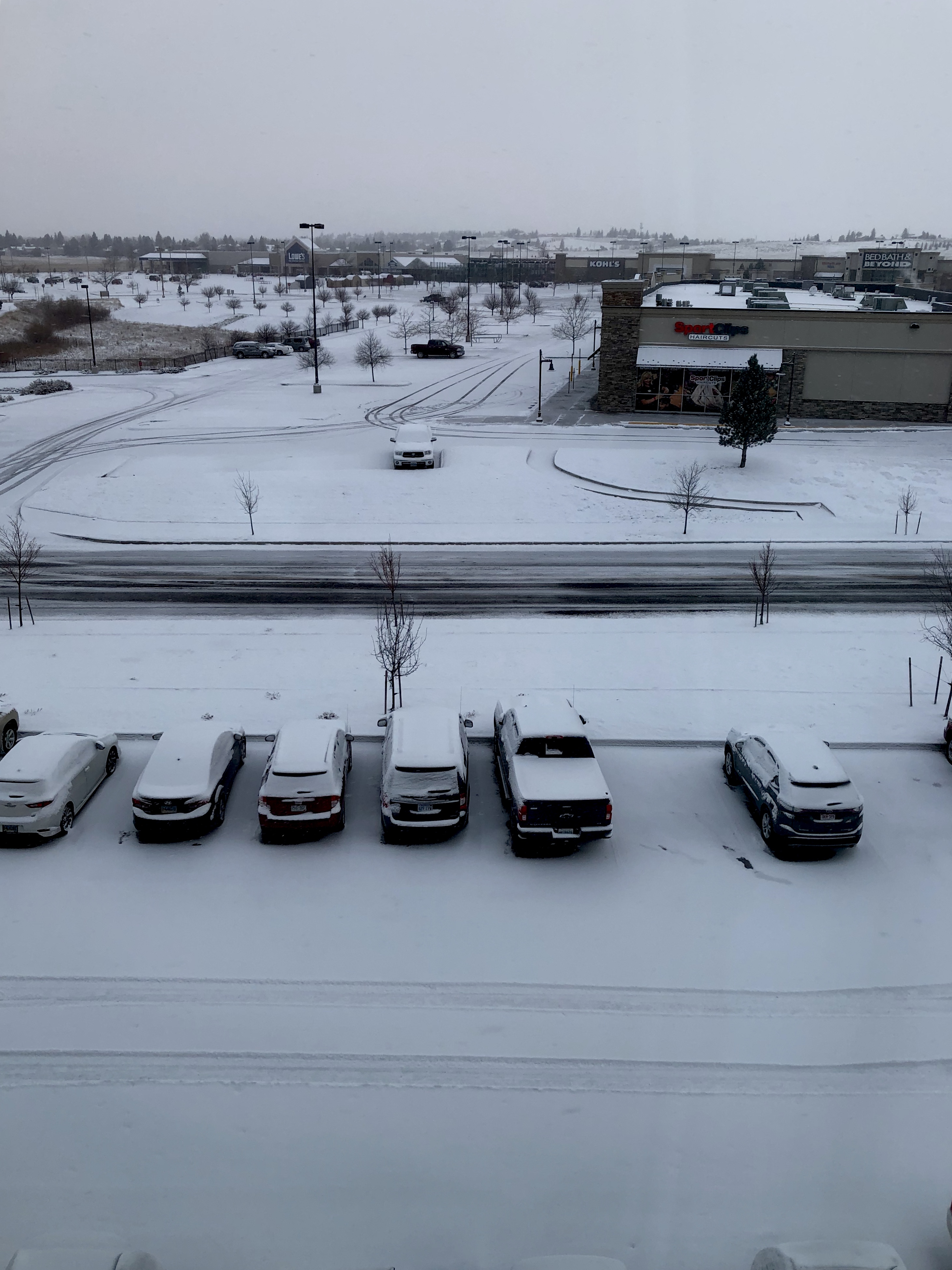 I was somewhat more thoughtful when it came to planning my return trip.  As you can see below, the intention was to divert south as soon as possible after leaving Wisconsin.
The original return route – Wausau to San Francisco:

What I didn't know at the time was that the "high deserts" of Colorado, Utah, and Nevada are basically big, dry, flat mountains that are freezing cold.  Again, no need to remind you that this was a consistent theme each morning when I'd crawl out of the trailer: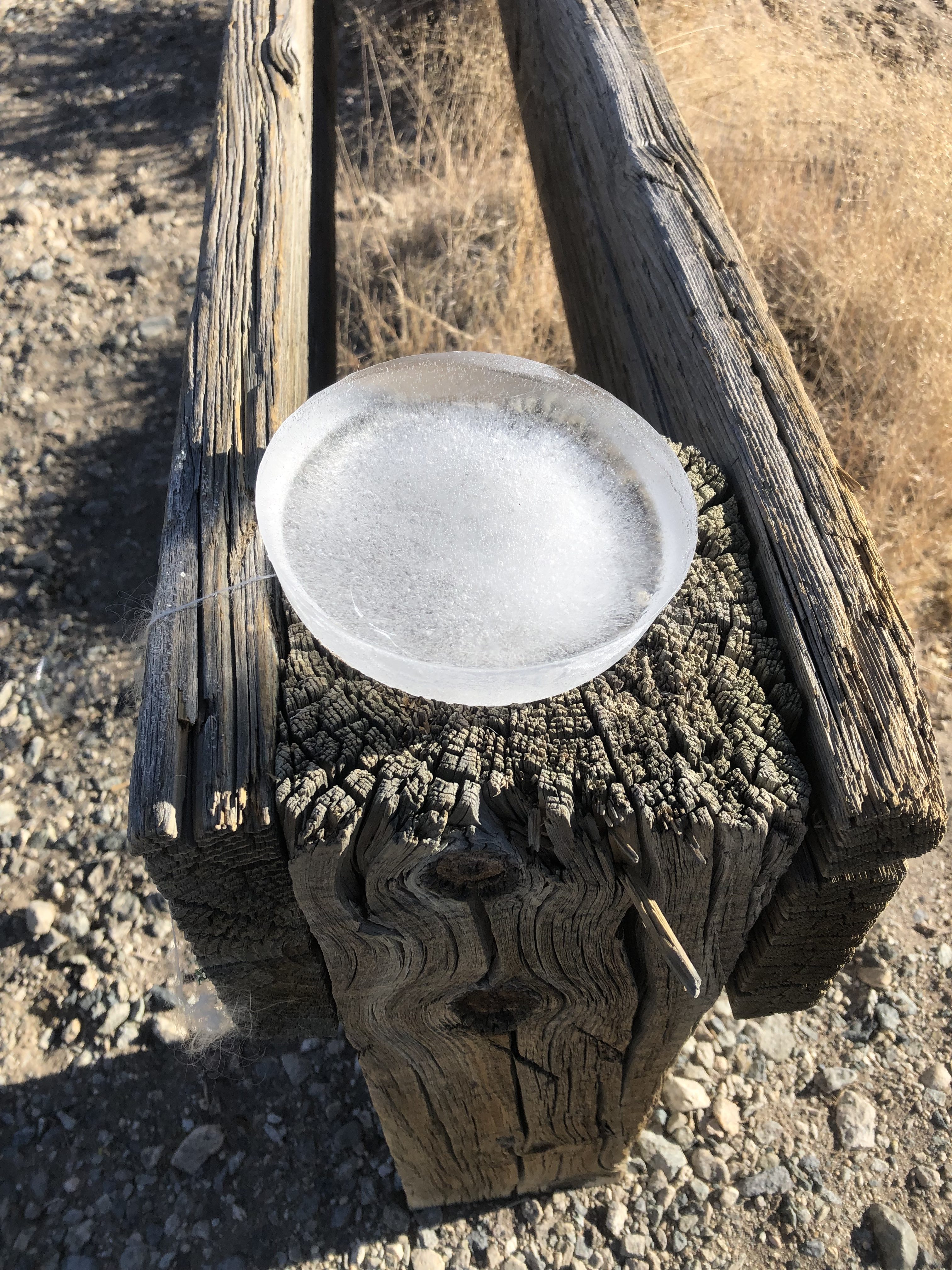 ---
Even without the visual evidence of frozen water discs or interior window frost, I was able to pick up on the seasonal temperature change pretty quickly.  By the time I hit Nevada the itinerary was thrown out the window and I was winging it.
I determined that camping in my roof top tent in artic temperatures was best left to the professionals.  I love a good road trip and travel is in my blood, but there's no reason to lose a finger to frost bite while driving across the country.
So, with hotels in my sights, I hit Elko, NV in the dark after about 10 hours on the road.
(To be fair, about 20 minutes of that was sitting on the side of the road waiting for my "Welcome to Nevada" slip police officers' hand out to visitors.)
Still, 10 hours of driving in one sitting was not sustainable. I wanted to reduce my driving each day to a more reasonable 8 or 9 hours, but I had a scheduled arrival date in Wausau so I had to book it.  To reduce my driving time while keeping my schedule, I shaved off some of the planned sightseeing and took the most direct route to Wausau that I could.
Frankly, once the itinerary was out the window I was liberated from my itinerary chains!  I was free to be completely flexible! There was only one deadline I had to keep and that was being at work on November 26th.  But, until that date, the world was my oyster!
And so began the adventure.
---
The Actual Route
Journey to Wausau: 
FOUR STOPS:  San Francisco California to Elko Nevada to Cheyenne Wyoming to Omaha Nebraska to Wausau Wisconsin
The drive out to Wausau took four days (Friday to Monday) and was spent entirely in hotels.  I had a delightful book on tape, some amazing music and endless countryside to take in.
I had driven the route between San Francisco and Salt Lake City before, so I knew what to expect through Nevada and Utah.
The adventure really began as I drifted into Wyoming!  The sites were all new, the landscapes all foreign and the firework culture very alarming
SF to Wausau:
---
Journey Home:
TEN STOPS:  Wausau Wisconsin to Lake Ahquabi Iowa to Leavenworth State Fishing Lake Kansas to High Plains Camp Kansas to San Luis State Wildlife Area  Colorado to Riverside RV Park Colorado to Canyonlands Utah to Fishlake National Forest Utah to Mohave California to Pinnacles California to San Francisco California
My return home was completely unstructured.   Whether it was stumbling into a nudist camp nightmare, complete with haunted dolls, or bumbling into a local militia meeting while on an innocent search for water, there was something new around every corner. 
My exposure to these unfamiliar locations across America made me wish I had longer to explore and soak everything in.  Unfortunately, I was very aware of my "be back at work" deadline on the 26th, so I wasn't able to stay longer than a night in each spot. 
My hope is that now that Finch is a part of my household, I'll have plenty of opportunity to return to many of these places.  I absolutely expect to hit Canyonlands again and stay long enough to really explore the magnificent history and beauty of the park!
Wausau to SF:
---
I hope you have enjoyed looking at these maps and following along on my trip!  I will be posting another entry soon about some of my lessons learned, of which there were many!