I sat down at my computer today, fully intending on filling you in on all the wonderous things that have happened in my life over the last four years.  I had envisioned a captivating tale filled with twists and turns, stories of adventure, and spellbinding characters making courageous choices.
As it turns out, most of the last four years looked much like the four years before that.  I suppose that's the faithful rhythm of middle age.  I still live in my beautiful San Francisco home;  still have the same job; still shop at the same grocery store, and still spend most of my available weekends working on house projects or going to baseball games.
That's not to say I haven't had quite a dynamic last few years.  Like all of us, I've learned to carry a face mask with me everywhere I go, and have seriously upped my hand washing game.  I've grown quite comfortable working from home half of the week, and have taken full advantage of being able to order anything my heart desires with the click of a button.
So, without further ado, here are some of the highlights of my last 4 years
LOVE
For starters, I met the love of my life, dated her for a few years, moved in together, got engaged, got married and now we're heading off on an around-the-world adventure!  For those of you who are in your later years and thought love wasn't in the cards, just wait. You never know who might walk around the corner and change that forever.
TWO PUPPIES JOIN THE TEAM
We adopted two puppies, Sailor & Pilot. Sailor (on the right) has taken up Dingo's former position as lead of the neighborhood watch. Pilot (on the left) prefers a stealthier approach to security. He has perfected the technique of appearing so adorable you want to snuggle him, and just as you approach he will scare the pants off of you with his terrifying man-bark and sharp wolf-like teeth. As a result, our home is the safest one in San Francisco.
DINGO WAS PROMOTED TO ANGEL
My beloved Dingo has traveled over the rainbow bridge.  As a memorial, I had Dingo's noble spirit and royal likeness tattooed on my arm so she will continue to travel with me wherever I go.
TROUBLE WAS REUNITED WITH HIS LUCKY FOOT
Our sweet bunny Trouble joined Dingo over the rainbow bridge.  Trouble was a tri-pod bunny who lived to the ripe old age of eleven before quietly passing away in his mother's arms.  In his rebellious youth, he attempted a brazen jail break, resulting in a leg injury and subsequent amputation.  Following this life altering experience, he found a new lease on life and settled down into a loving marriage with his wife Memphis.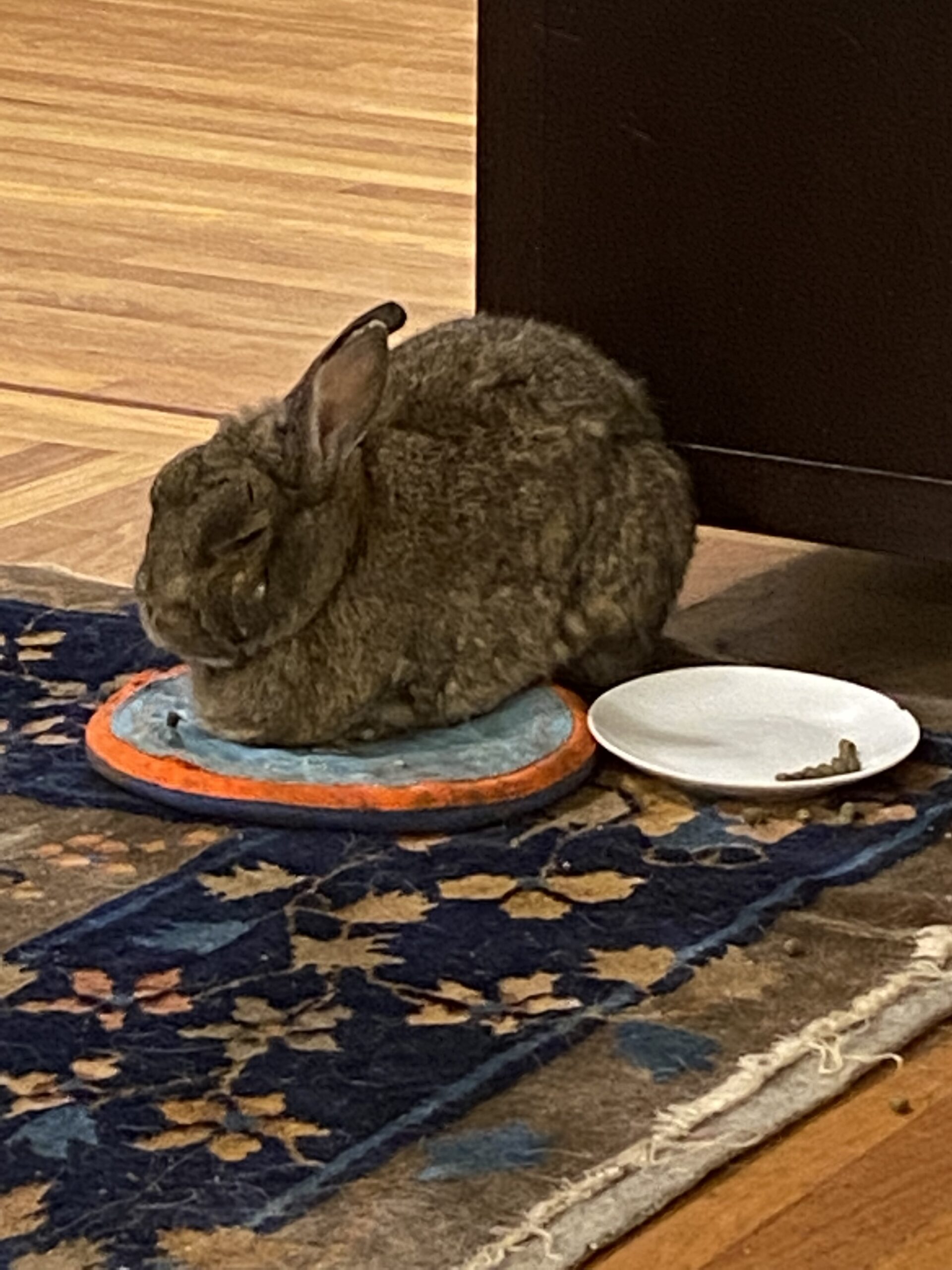 Memphis continues to carry her love of Trouble with her into her elderly years, however, she has officially declared she is now one of the puppies and the keeper of frisbees.

PLANES, TRAINS & AUTOMOBILES (and danger boats)
We traveled to Hawaii and New Orleans, as well as a number of campgrounds throughout California and Utah.  I have strong feelings about the making of this Hawaii photo, but let's leave it with my recommendation that you avoid any inflatable speed boat tour that promises you'll get to see the inside of sea caves.
FINCH
Finch is still a valued member of our home.  She has been decked out with all sorts of fancy gear, such as a cellular booster, an awning room, leveling jacks, and a self-draining cooler.  We continue to take her out on regular trips when not planning trips around the world.  She was there when Kress and I got engaged, and even when we got married.  Her adventurous spirit will continue to take us on new adventures for years to come.