Last night's temperature dropped down to at least 15 degrees, making it the coldest night yet. While this is, objectively, bitterly cold, I find that rather than focusing on temperature, I'm shifting my attention to set specific standards for my own well being. For example, while I'm not thrilled about sleeping in a scarf and hat, it's a compromise I'm willing to make. What I'm not willing to compromise, however, is having enough liquid water for my morning coffee. That's where I have to draw a line.
So when I woke this morning at around 6:45am to let Dingo out and noticed that my drinking water was frozen completely solid, I had a choice. Pack up and move out, or go back to sleep and hope sunrise works its magic. Given that it was 6:45am and I hadn't had my coffee, the chore of packing up and driving was too much this early in the morning. So back to bed I went! Two hours later, I'm happy to report that the flaming ball in the sky came through for me! Unfortunately, she didn't come through for Dingo.
With my bloodstream flowing with caffeine and the next destination only an hour away, there was plenty of time to enjoy the day. Dingo has been a real trooper, sitting in the car for hours on end without complaint, so I decided I wanted to dedicate today to her. That process began with a good game of frisbee before packing up and hitting the road.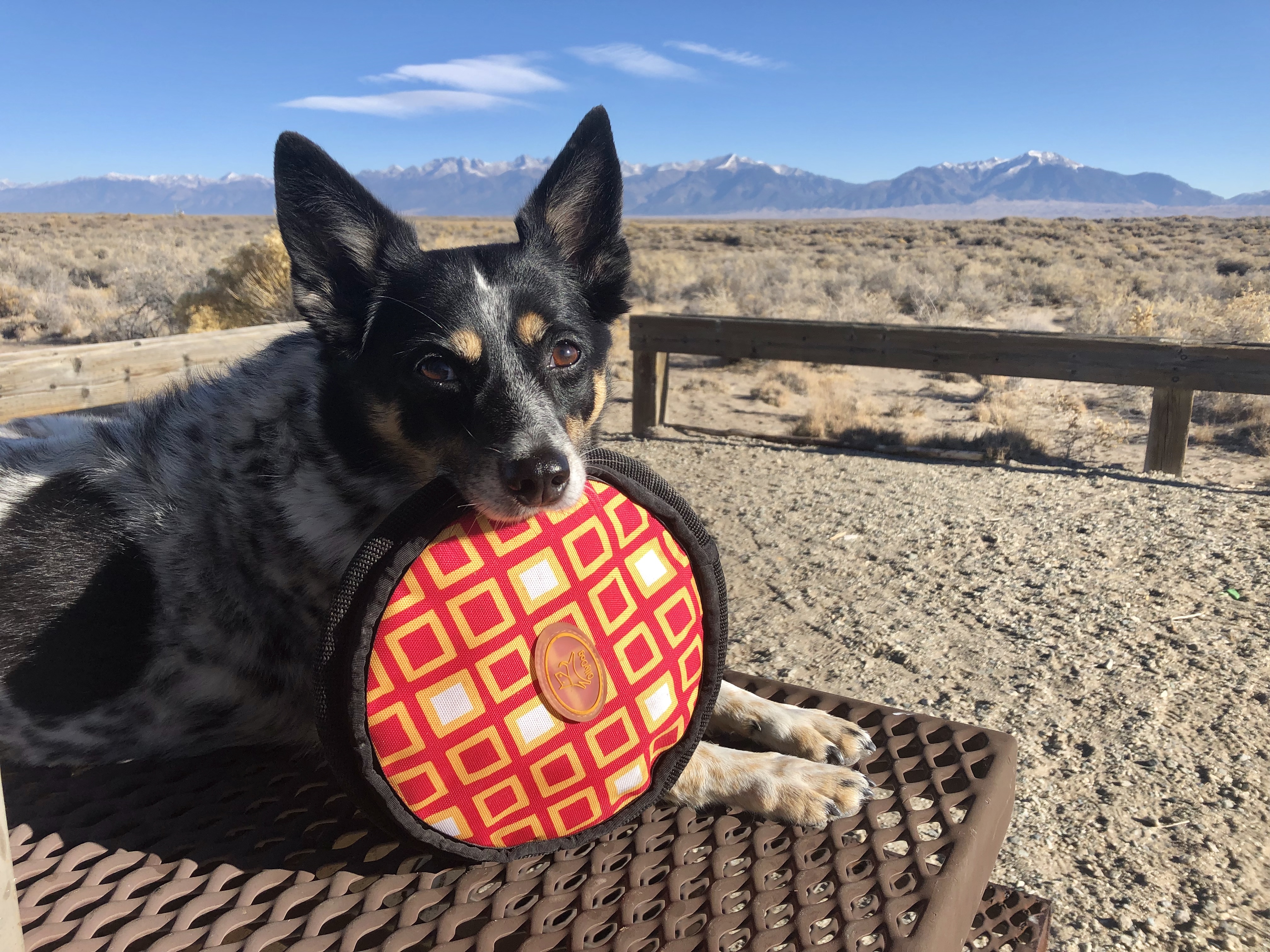 Dingo's natural instinct is to be an explorer. Everywhere we go she's running around, taking in all the smells, climbing boulders and trees, and chasing as many small animals as possible. So when I realized our campground was directly adjacent to a salt water lake, I knew we had to go exploring.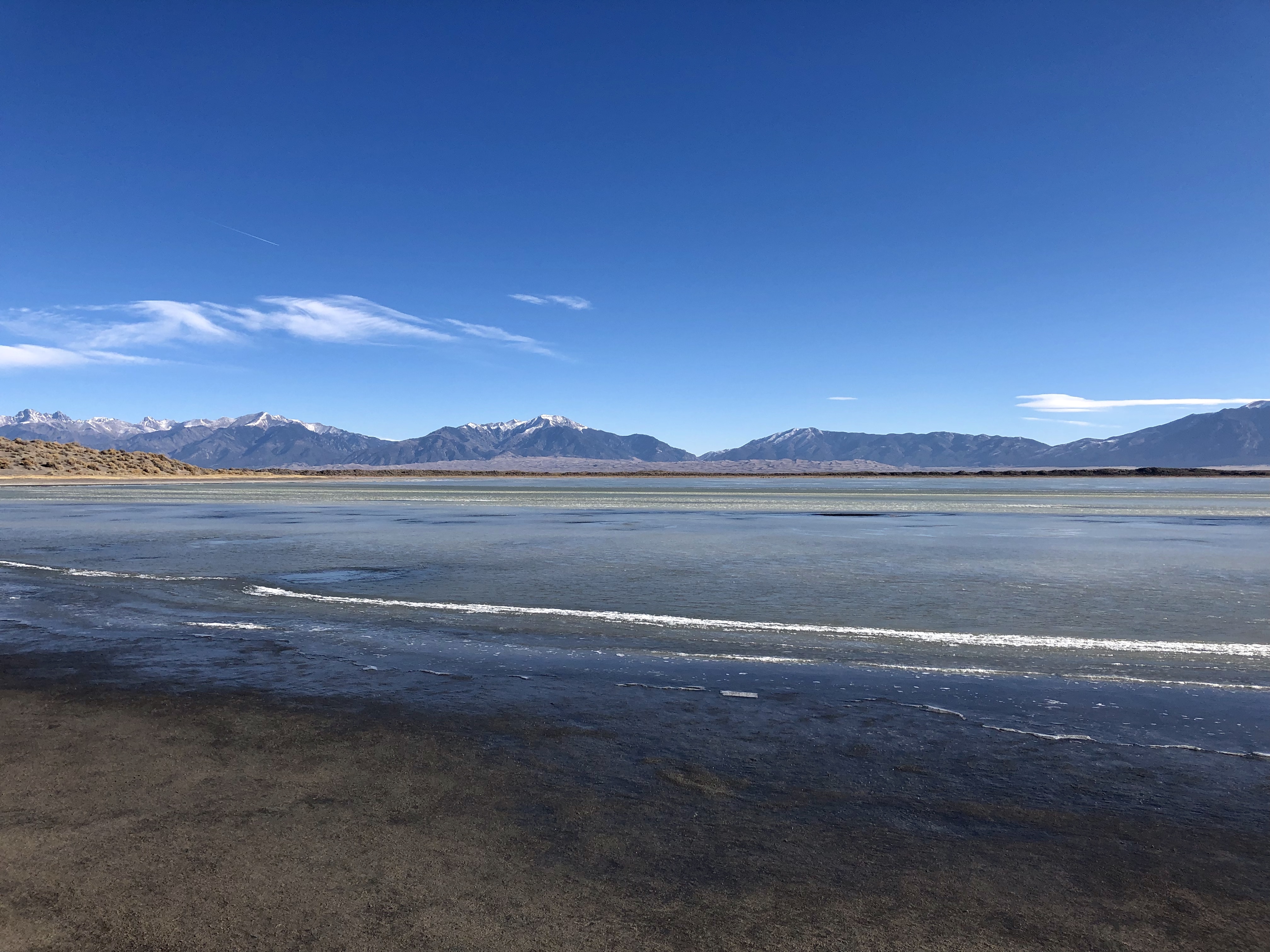 The lake was framed at its top by a horizon of mountains and at its base by salt pillars that were stretching skyward as if trying desperately to be as magnificent as the monuments in the background.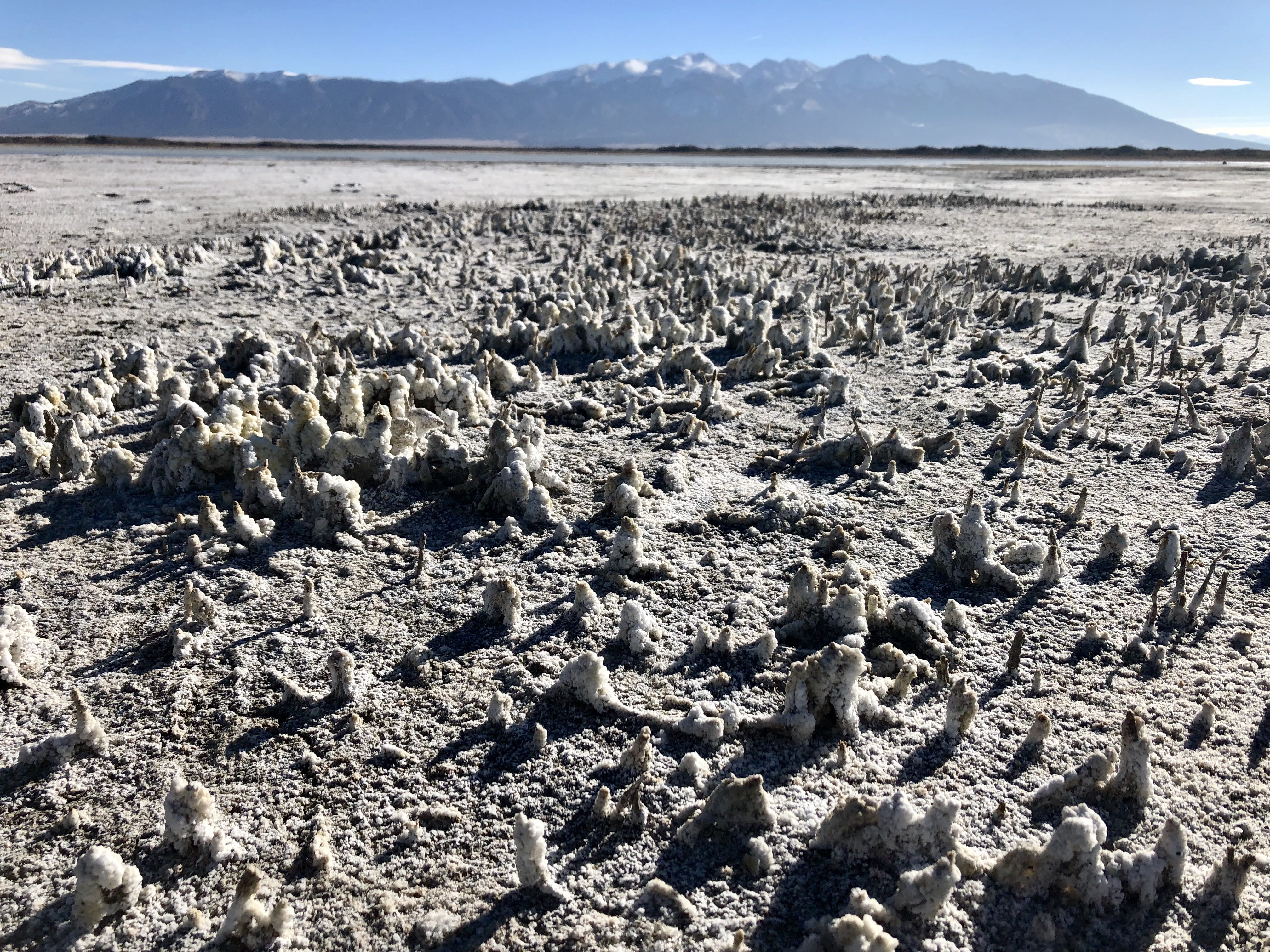 As we approached the lake, the receding shoreline became more and more apparent. Periodically we'd come across footprints that were so old that the salt had begun to fill them in. I couldn't help but wonder how long it had taken for the salt to grow into the footprint, and whether the artistry the salt had demonstrated would be wiped away in the next rain.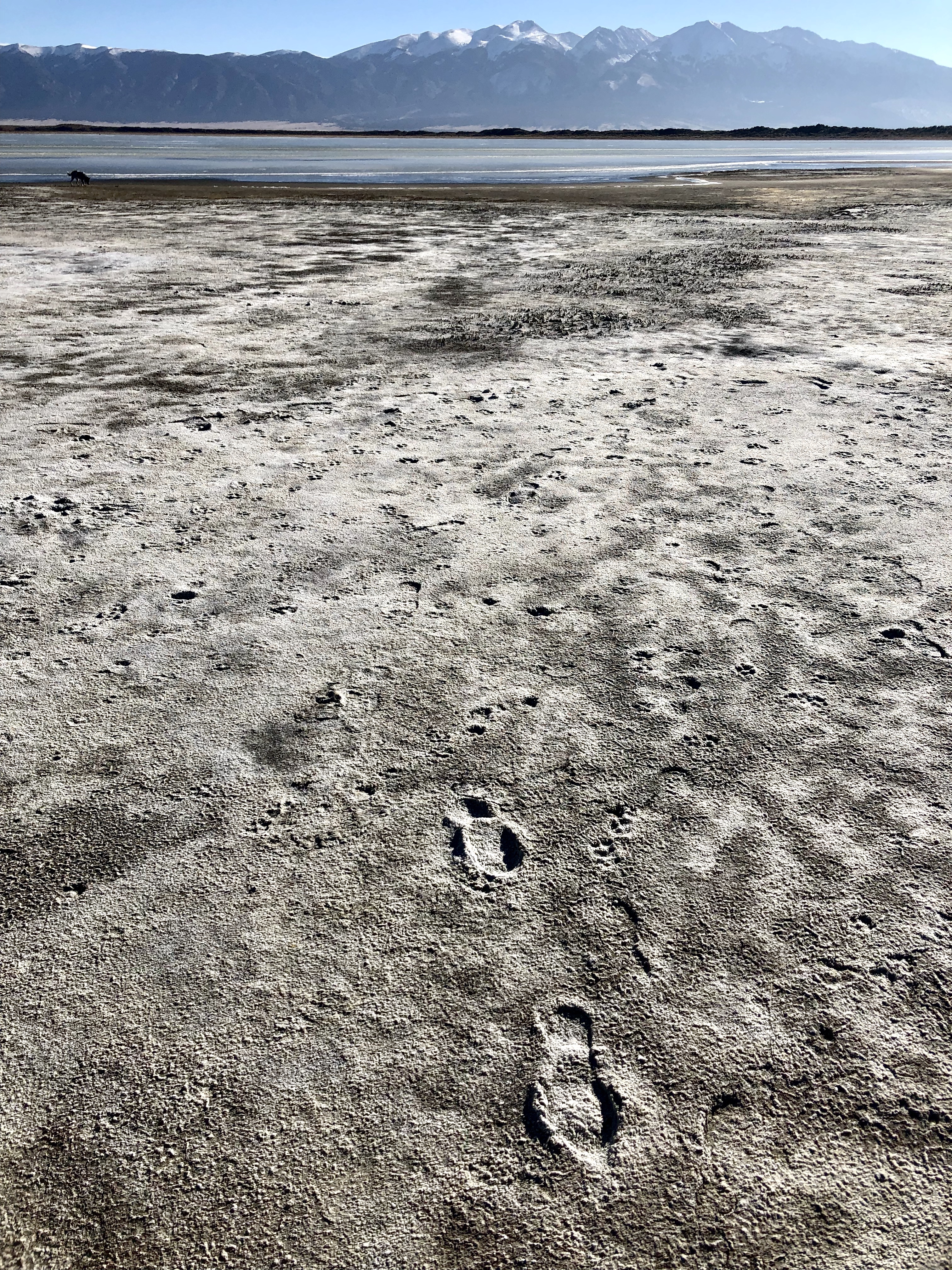 Continuing on closer to the lake, the singular tree and low brush faded into the distance, leaving only a small wall of salt to indicate where the shoreline once lived.
It was pretty astounding to think that anything could grow in this highly alkaline environment, let alone a tree. Granted, it was just one tree, but it was still fighting to survive, despite the obstacles in its way.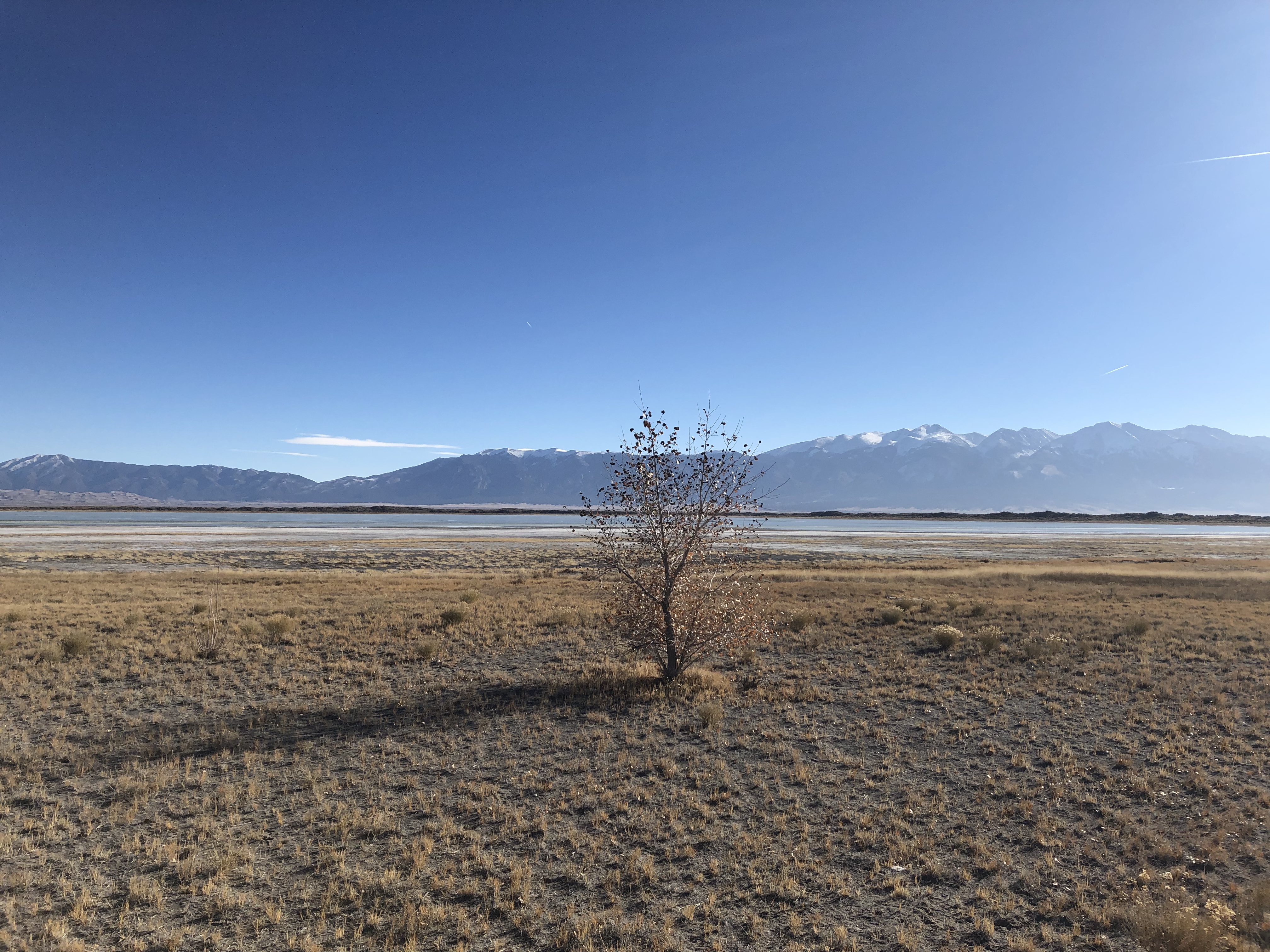 After thoroughly exploring the lake, Dingo and I hit the road for the Aspen Glade campground in the Rio Grande National Forest. It was only an hour away, which pretty much guaranteed another cold night. Despite that, with a name like Aspen Glade, I couldn't wait to get to this seeming paradise. I was picturing groves of Aspen trees, their white trucks and golden leaves casting shadows that danced along side a clear blue mountain river. With anticipation building, we turned a bend and saw the sign! "Aspen Glade – Closed"
"Not to worry" I thought to myself. While disappointed, this is certainly not the first detour I've had to take on this trip. I was, however, presented with a choice to make. I could either return to that surrene quiet lake that was just an hour away and reassess things, or I could continue into the mountains and see what came my way.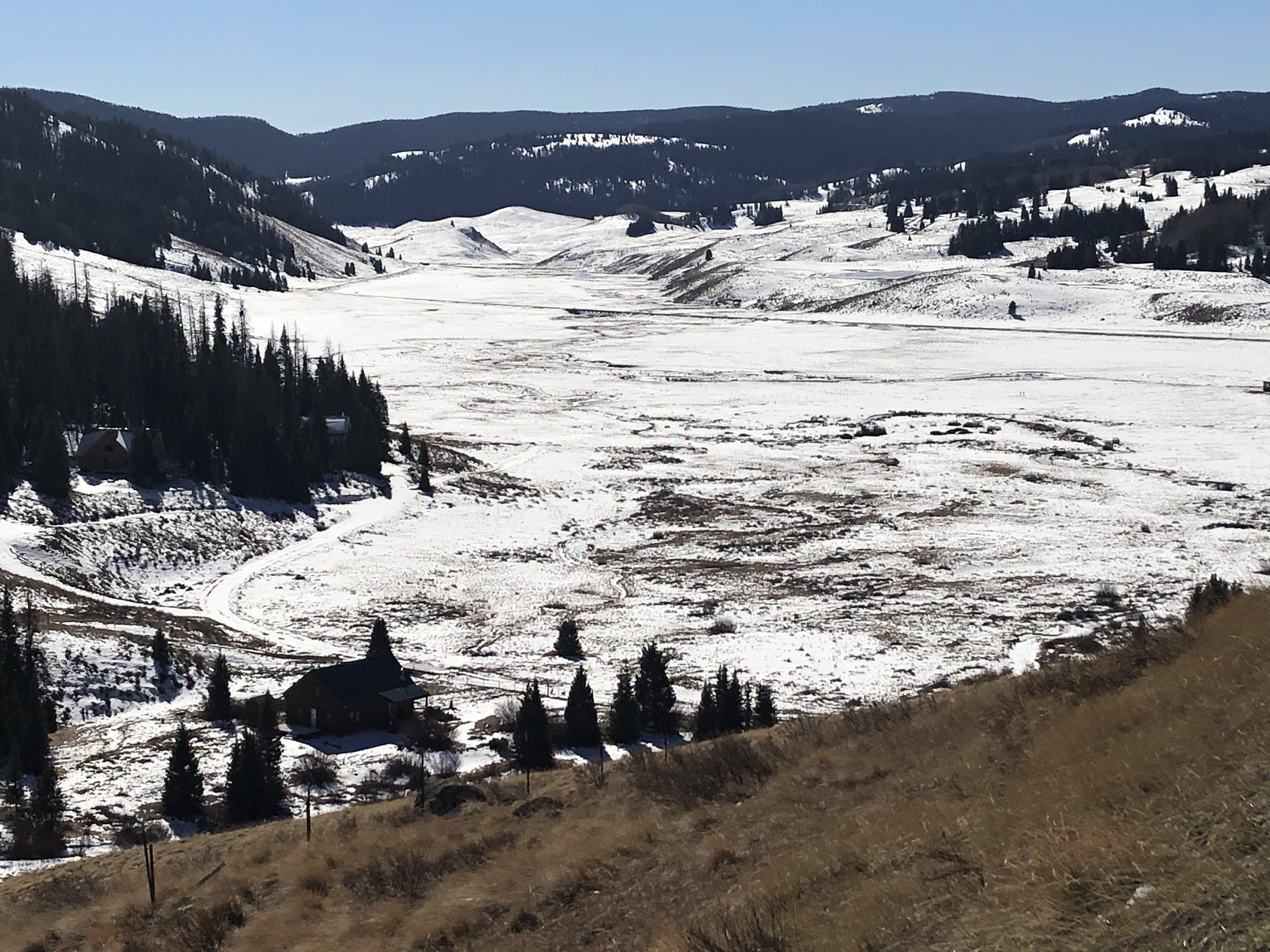 I'd say that even a few weeks ago this situation would have caused a good deal of stress for me. I like to know where I'm going and where I'll be sleeping at night, but this trip has changed me. I'm open to what may come up, and am excited about the unknown. It's so much easier to be able to predict what's about to happen, but so much more thrilling to have something amazing happen when you're least expecting it.
So with my sense of adventure, my hopeful optimism, and my desire to make this day fun for Dingo in mind, we hit the road. I once again found myself alone on a two lane highway. Rather than leisurely cruising through golden fields, this one was sharply climbing the mountain. Winding its way to the top and then rapidly winding its way back down. Snow covered every inch of the landscape, and knowing how much dingo loves to frolic in the snow I looked for a place to pull off. I found the perfect road directly next to a small valley where Dingo could run.
Surprisingly enough, it was also the continental divide, so I got this unplanned picture.
Dingo leapt from the car, frisbee in tow, and ran right into the thick snow! It was the perfect treat for both of us. Dingo got good chuck of play in, and I got a thoroughly exhausted dog for the remainder of the day!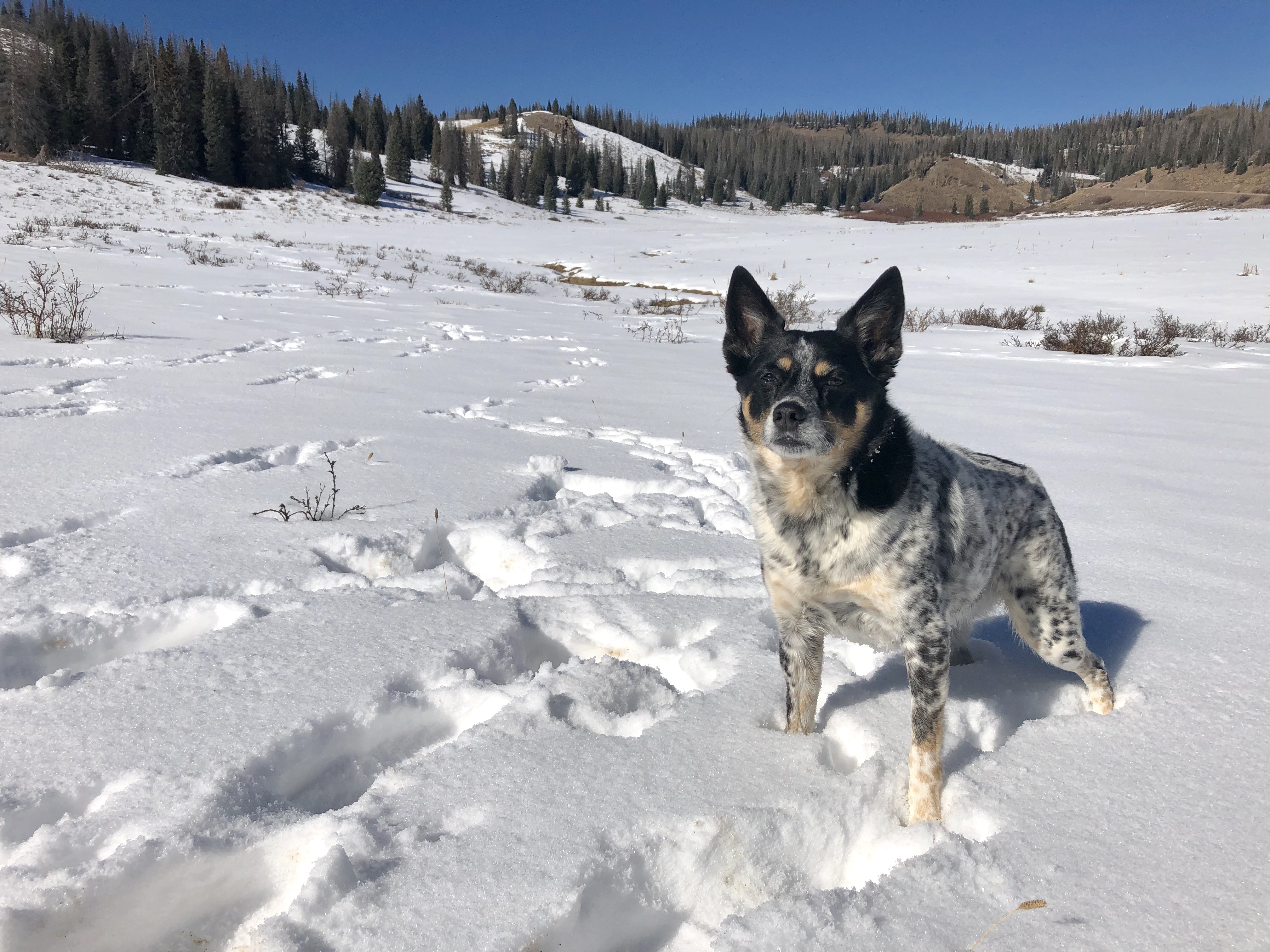 Returning to the road, we left Colorado and entered into New Mexico. The landscape shifted from dramatic peeks and valleys covered in pristine white snow, to river carved canyons lined by monolithic mesas standing watch over the landscape below.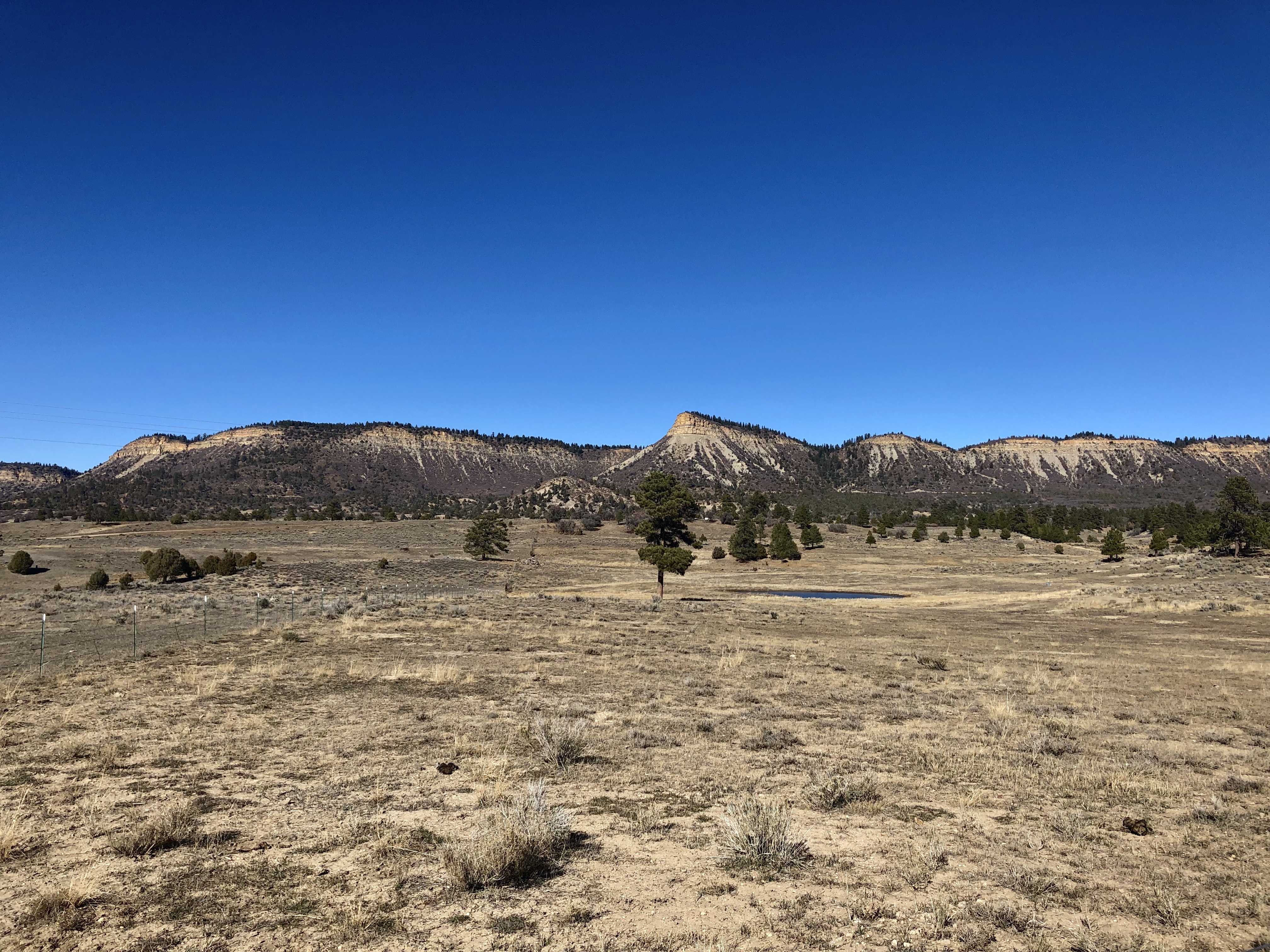 As abruptly and unexpectedly that the landscape appeared, it was lost again behind a forest of trees as I returned to Colorado. It was like a quick taste of what the Southwest was going to offer, and I certainly wanted more. For now, however, my primary focus was to find someplace to camp for the night. Driving deeper into the Colorado mountains I entered into a small town with a old malt-shop/diner directly next to a beautiful river. I ordered a hamburger, and as they cooked it up I took dingo down to the river to sniff around and explore.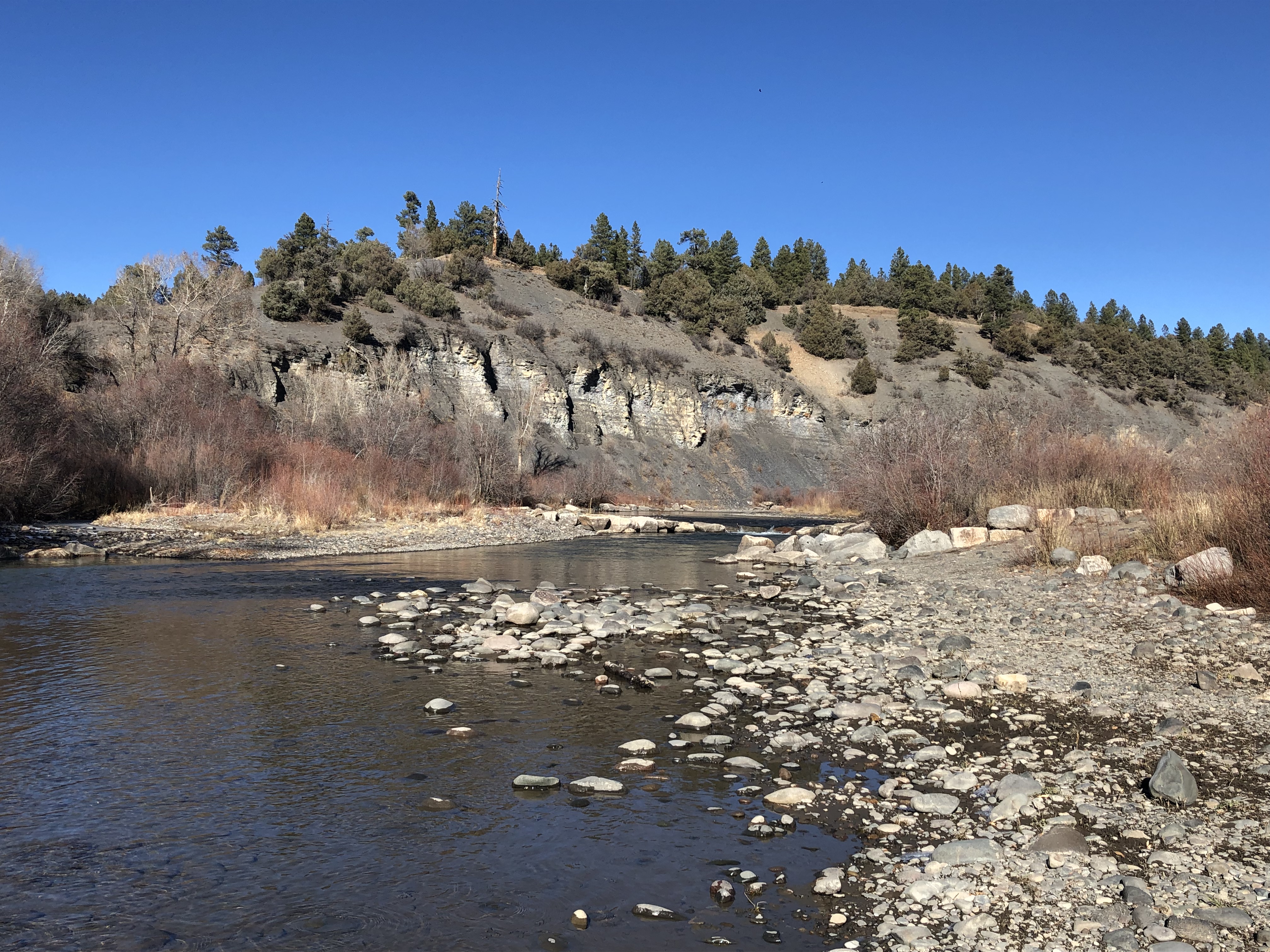 Dingo, in her enthusiasm leapt from boulder to boulder and down onto some ice that quickly shattered beneath her little dainty puppy paws. All I heard was an unexpected SPLASH and Dingo, wet from head to toe, comes swimming around the bend. The water was freezing cold, but thankfully wasn't moving fast. I guided Dingo to shore where she was shaking uncontrollably and looking at me like "why'd you do that mama!?" (because of course it was my fault the ice broke)
I hustled Dingo to the car, pulled out the towel and dried her off. I put her back in her bed where she continued to burrow her head into the towel to get every last drop of water off her face!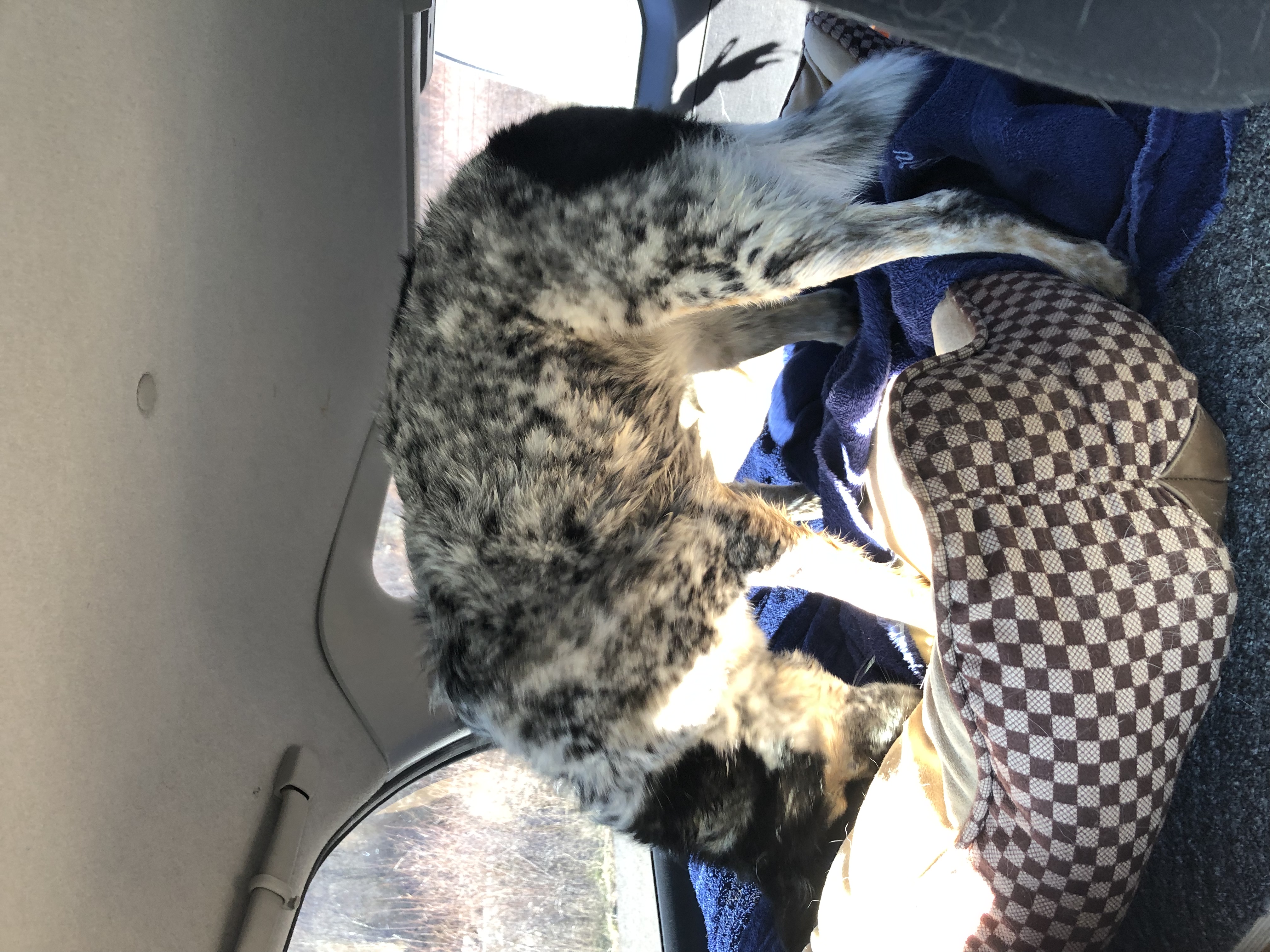 While she did that I went back in and picked up my burger. I was away from her for maybe 3 minutes, but that was all the time she needed to get into the bag of snacks, pull out my Parmesan crisps and her dog treats and eat nearly all of both containers.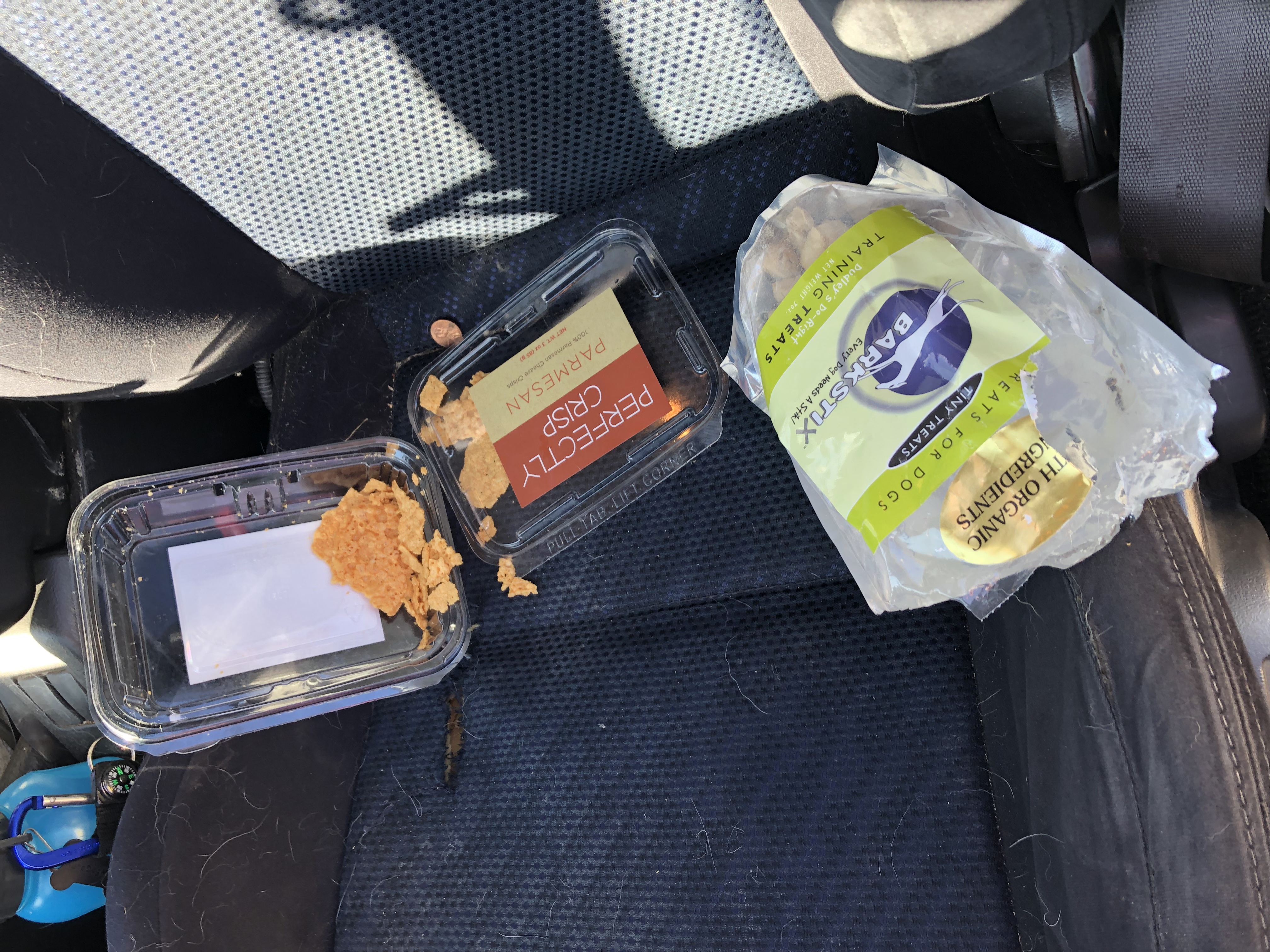 I couldn't help but think this had been something she'd been plotting for awhile. Almost like the whole "falling into the river" and "why'd you do that mama" stunt was a ruse to get me away from the car just long enough that she could dig in.
Needless to say, all snacks are now safely housed in the trailer.
As we continued on with our campground search, one after another every camp site and RV park we came across were closed. Despite the beautiful drive, I was starting to get discouraged. I knew we'd find some place to sleep, but was hoping it wasn't going to be a hotel. I put one last search into Google Maps for a campground and the Bayfield Riverside RV Park came up. It was the only RV park that appeared, so if it was closed I'd be heading for the next town to get a hotel.
I pulled in and was immediately struck by how beautiful it was. My last RV park experience in the middle of Kansas wasn't spectacular, so my bar was set pretty low. This place, however, was amazing. Nestled along a flowing stream, the park was lined with aspen trees and Christmas lights. The grass was green, the facility was spotlessly clean, and people were wandering around smiling and greeting each other. What fairy land had I stumbled into?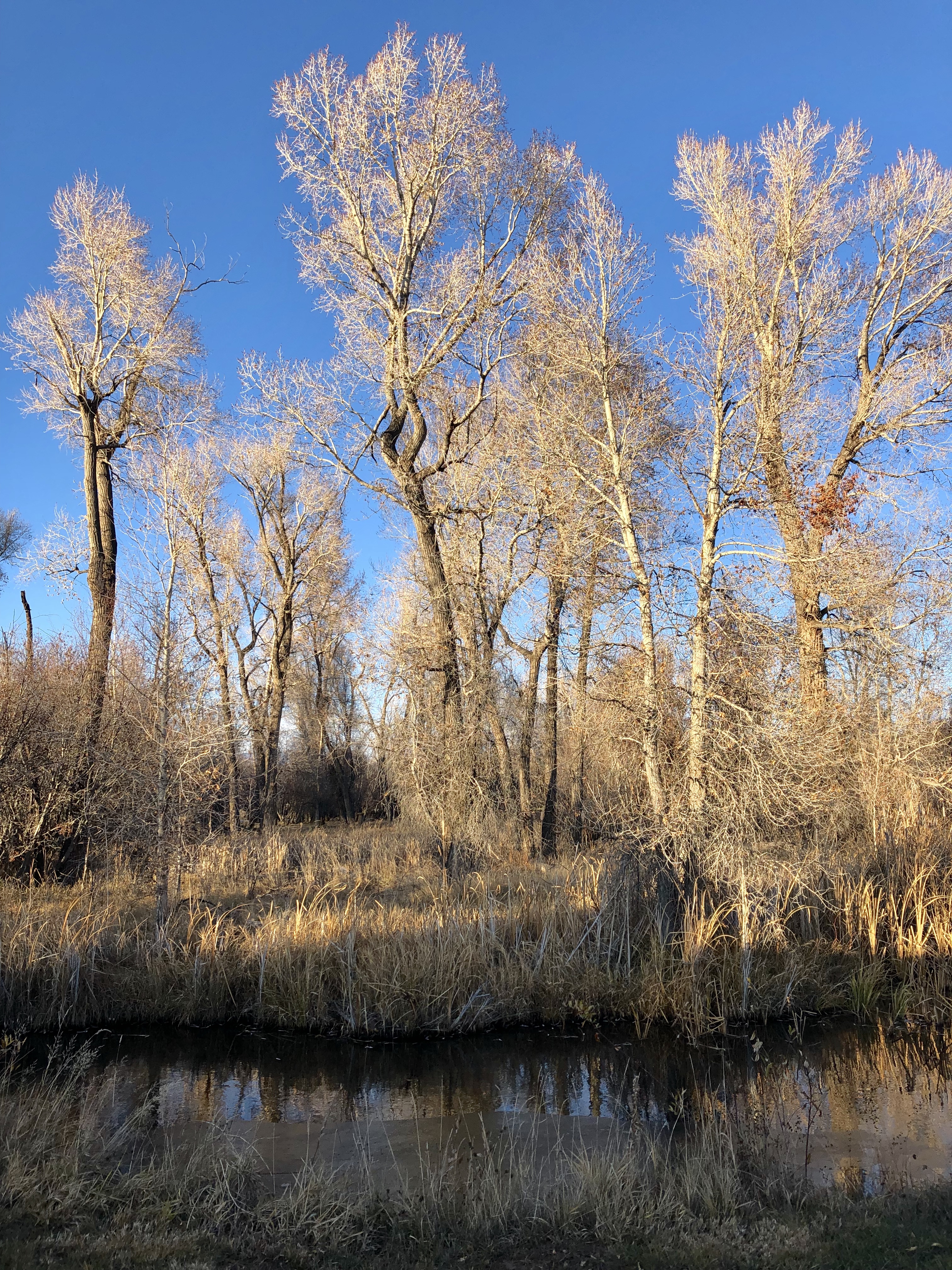 I was immediately greeted by a woman who informed me they were closed for the season. Maybe it was the desperation on my face, but her next sentence was how she'd never turn someone away and that she'd put me right next to the laundry and bathrooms. This was the perfect outcome to the day. Dingo and I got more frisbee time in while wandering the property.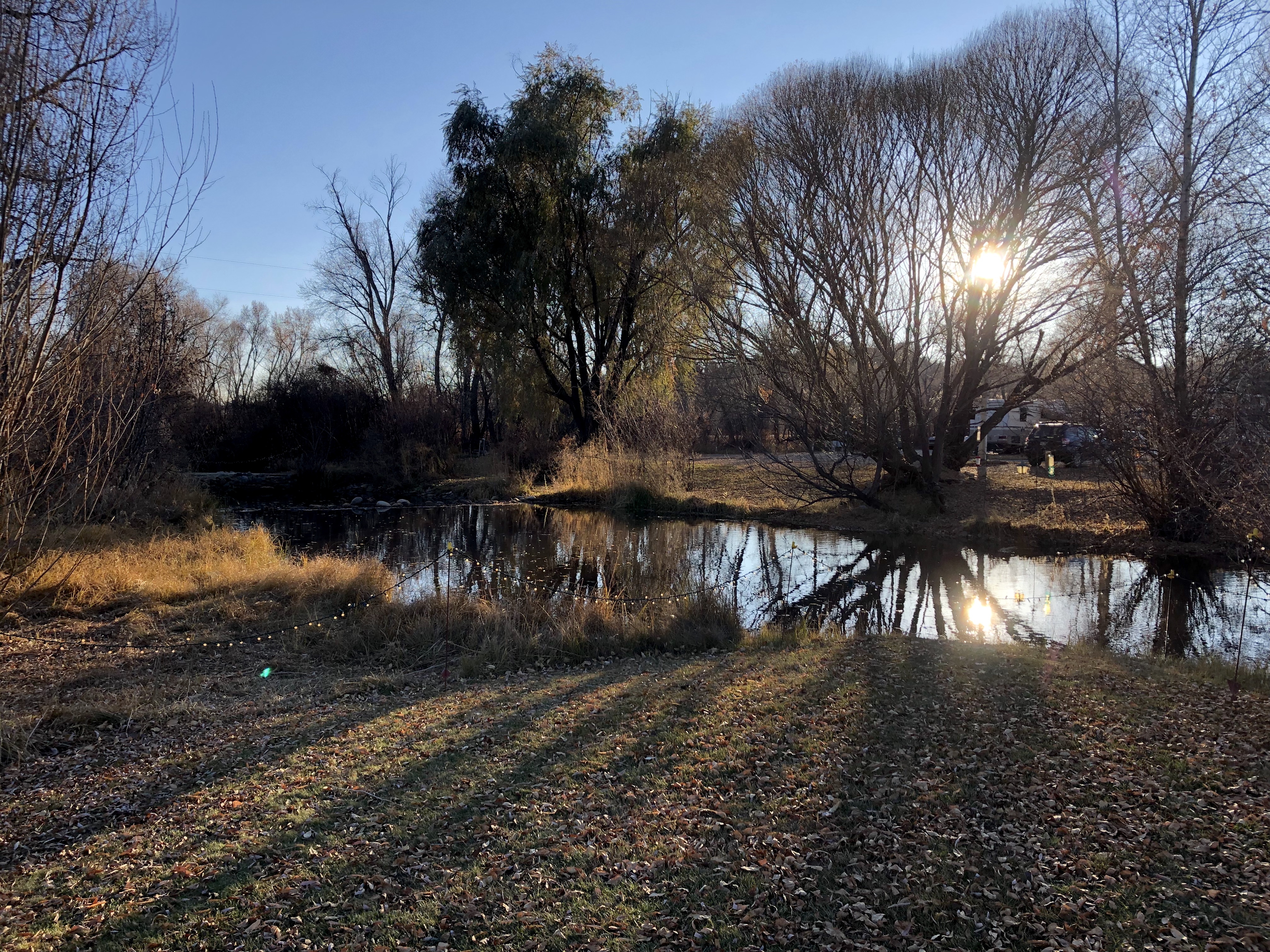 Almost more importantly, I did laundry AND took a shower. There are few things in this world that feel better than a shower after days of not showering. It's like taking the feeling you get when you get your car washed, adding it to the feeling after a good haircut, and throwing in a dash of a massage.  Then take the result of that a multiply it by 10, and that's how good it feels!  
Needless to say I'm very far off my original itinerary track. I took a very unusual scenic route through the Rocky Mountains and have landed somewhere I had never planned on being. I couldn't be happier with the outcome.
Tomorrow I intend to head to Canyonlands. Again, not part of the original plan, but that plan doesn't exist anymore and I've always wanted to see Canyonlands.
Until then, here's a picture of Dingo being adorable after stealing my spot on the bed.